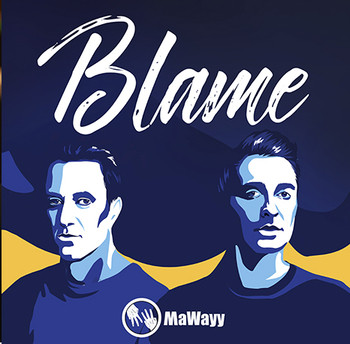 In the past few years, the art of the lyric video has progressed mightily. Directors no longer project words on a black screen and leave it at that – instead, they've been finding innovative ways of inserting text into their frames. But we're willing to bet that you've never seen a lyric video as beautiful, entertaining, or creative as MaWayy's animated clip for "Blame", their latest single. This lyric video isn't just thoroughly legible, it's hypnotic, exciting, and compulsively re-watchable, too. The words are so seamlessly integrated into the action that the "Blame" clip feels every bit as dynamic as any recent non-lyric video we can think of.
It helps that "Blame" is as straightforward and as strong as it is. MaWayy doesn't mince words: they mean to get you moving, and singing along, as quickly as possible. The international electronic music duo specializes in powerful first impressions. "Wrong", their prior single, lit up dance-floors all over the world in the summer and autumn of 2017. The Huffington Post hailed the song as "sizzling electropop", and its sunny Mediterranean vacation of a music video swiftly garnered more than a million views on YouTube.
Site – http://www.mawayy.com/
"Blame" contains all of the elements that made "Wrong" a success: an instantly memorable melody, an impassioned vocal performance, explosive beats, and a dizzying drop. From its 1.4 million views on Youtube and 1.1 million streams on Sportify, #42 on the Billboard Dance charts, No. 1 record on WCPY 'Dance Factory FM' Station in Chicago, and feature on Spotify's biggest Electronic Playlist 'Mint': to those qualities, MaWayy adds a palpable sense of romantic urgency. There's real heartbreak and longing here, and when the chorus hits, it's a safe bet you'll get swept up in the drama.