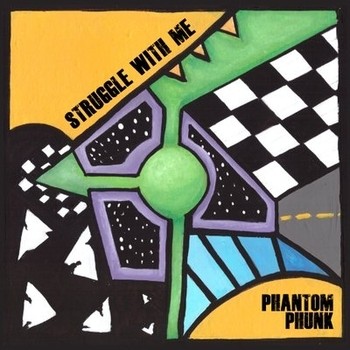 Phantom Phunk started off in 2014 when old time friends who also liked to write songs came together to brainstorm about ideas that they had for songs. When they began recording in band member Hector Fontanet's house studio, Sasha Cheine reached out to other musicians to play their songs and also record. Another old friend, Nicholas Emiliozzi joined the band and in 2015, Phantom Phunk came to life.
The band is progressive indie with Sasha contributing the vocal power, Nick the main drummer and Hector the guitarist. Their style of music, right from their first album "Turtle Sand" has always been unique in its offering. The quartet has gone on to develop their sound and song writing. Sasha also left the band while recording "Struggle with Me." This led the band to become even more diverse with their sound.
"Struggle with Me" is an EP reminiscent of something you'd get from the Gorillaz or No Doubt, a nice fusion of alt-rock and pop. Even though a lot of changes have come about the band, their creativity still shines from this album and each song is distinct in its presentation and message. You can find so many different styles in this EP and it is a musical accomplishment that Phantom Phunk should be proud of.
The EP kicks off with "Mediphorical," an up-tempo song that introduces the listener to what Phantom Phunk offers. This is a nice listen that puts you in the mood, symbolic of the alt-pop roots of the band. "Every Where You Go" is much slower and features a Hip-Hop side of Phantom Phunk which is one of the new creative boundaries that the band has explored recently. The song is another dimension that shows how much the band has grown since the exit of founding member, Sasha Cheine. "No Hard Feelings" is more upbeat and goes back to the alt-pop roots of the band and provides a mellow tone that you can bounce to.
One of the best things about this EP is the quality production that went into the project. Mixed in Florida at the Harmonic Factory Studio, the final mastering was done by Frank Arkwright in Abbey Roads Studio in London, England. The drums, guitar and other instruments come through beautifully and compliment the vocals on the band, leaving you with a wholesome musical experience to enjoy throughout.
"Something Certain People Say" begins to round out the music journey of Phantom Phunk's EP and ends with "Cheap Thrills." Overall, this is a great effort from the band and is a testimony to how much they have grown over the years. Their sound has matured and they are trying more sounds, compared to their first album. "Struggle with Me" is far from a struggle as the name implies but is instead a smooth ride that offers many different music genres. This is definitely an EP to have on your playlist for the weekend and much longer if you are into alt-pop and are a fan of good funky music.
By Ava Mendes