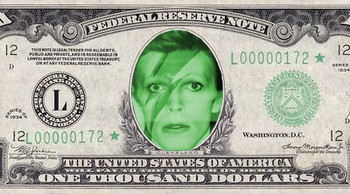 Before they record a drum track in Pro-Tools, sample a voice or write a lyric, artists can now cash in on their next album.
In 1997 David Bowie created a 10 year "Bowie Bond" with the help of Fahnestock & Co. in New York and Prudential Insurance Bowie sold future earnings on his back catalog of 25 albums. Moody's (the bond credit rating business) gave the "Bowie Bond" a triple-A rating, based on a 7.9 percent annual return against the projected earnings of "Space Oddity," "Jean Genie," and the rest of his back catalog.
Similar deals have been created for other artists, including James Brown, Ashford & Simpson, Marvin Gaye, the Isley Brothers, and the Holland-Dozier-Holland publishing catalogs. However the value of the "Bowie Bonds" started dropping as online music and file sharing grew in popularity, decreasing album sales – but the concept is still real.
The Royalty Exchange, founded in 2011, is based in Denver Colorado and claims to not buying and selling royalties but to be in the business of creating a marketplace for buyers and sellers. Their CEO Matthew Smith calls it a "Match.com for investors and startups" – their offerings include Cage the Elephant (including the band's songs from their first four studio albums: "Cage the Elephant," "Thank You," "Happy Birthday," "Memophobia" and "Tell Me I'm Pretty," which won the 2017 Grammy Award for best rock album), Eminem (who has 15 Grammy awards and sold more albums than U2, The Eagles, Billy Joel, or Aerosmith.), K-Pop and parts of the Grateful Dead song catalog. Dire Straits original manager Ed Bicknell from when they signed to Phonogram, has offered the Dire Straits catalog to investors through the Royalty Exchange. The 1985 Dire Straits album "Brothers in Arms" sold over 35 million copies worldwide.
"Take it or Leave it" by Cage The Elephant from their album Melophobia
If musicians or bands have a history of generating royalties they can turn to the Royalty Exchange or another company like Songvest (which is a an executive spin-out from Royalty Exchange), and offer up a percentage of their future earnings to raise money immediately which they can then use to record, master, manufacture and tour. The band Outline in Color a post-hardcore band from Tulsa, Oklahoma, generated over $40,000 by auctioning off a fifty percent stake in their first two albums' future digital sales.
Royalty Exchange raised $6.4 million to get off the ground and claims that it raised nearly $40 million for music creators in just over two years. Songvest announced a new fan-funding model in January 2018 of this year with a bunch of artists from the independent rock label Loud and Proud Records.
The Hipgnosis Songs Fund, in London has a target size of £200 million through an issue of 200 million Ordinary Shares. Included in the song collection thus far are Justin Bieber's hit "Baby," Rihanna's "Umbrella" and Beyonce's "Single Ladies."
Their 182 Fund Prospectus boasts:
* it would comprise over 1,000 Songs;
* it would include Songs performed by more than 50 global recording artists;
* it would provide exposure to at least eight songwriters;
* it would include Songs from each of the past five decades; and
* it would contain more than 10 number 1 hit Songs in the UK and the US, and more than 20 Grammy Award winners or nominees.
So while technology has levelled the playing field for consumers (that's you and me!) to be able to invest in popular music the Royalty Exchange specifically warns on its website that investment in their Royalty Flow IPO "will be suitable only for persons who can afford to lose their entire investment."
Spotify may be the leading contender in streaming now – but the speed with which the tech landscape changes may disrupt music listening and buying practices yet again very soon. Just as artists have to adapt to the new tools, we "the suckers in the market place" may have to be ready to lose our shirts or to make a killing on old and new compositions – should you invest in music you love? – or in music that you think will be an "evergreen" product. As an artist do you really want to sell your music before you've composed it?
By Conrad W.