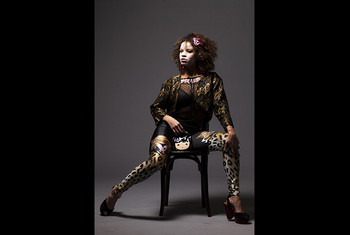 In 2018, musicians have stormed the barricades. Artists who've never been political are suddenly writing protest songs. But how many of those musicians are willing to risk arrest for their cause? How many are truly prepared to put themselves on the line? Nicolle Rochelle, who performs as Modern Geaisha, is a musician like that: one distinguished in equal measure by her personal and artistic bravery. She's spoken out – forcefully – against Bill Cosby, and she's been ready to risk her liberty in order to make sure her voice isn't silenced. It was she who was led away from the courthouse in Philadelphia by police, with the words "Women's Lives Matter" painted on her naked torso. That act of defiance made international news. Now she's back in the headlines with "Hey Hey Hey", a ferocious rap song about Cosby that pulls no punches.
Site – http://www.nicollerochelle.com/
For Modern Geaisha – or Mod G, as she is sometimes called – the Cosby controversy is personal as well as political. As a child actress, she appeared on the Cosby Show several times. Her first-hand experience of working with Cosby gives her a perspective on his behavior that few of his other high-profile critics share. When she raps over a skittering, propulsive trap beat about Cosby, she does so in language that is powerful, direct, and astringent. She gives voice to the outrage of the star's victims, and to thousands of women whose charges of assault against rich and powerful people go unheard. In the scalding clip for "Hey Hey Hey", she addresses the camera with nerve, swagger, and some justified anger, too. Though her message is a heavy one, she never loses her cool.