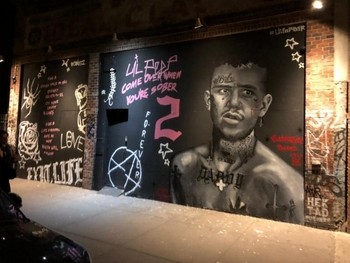 Lil Peep's second album, Come Over When You're Sober Pt. 2 will be released on November 9thvia Autnmy – a division of Access Records, on license to Columbia Records. This marks the release of the first posthumous long form body of work from the prolific artist The New York Times has described as "at the forefront of bridging hip-hop, emo, pop-punk, and one of the most promising musicians in any genre."
Come Over When You're Sober Pt. 2 was produced and guided by Peep's friends and collaborators, Smokeasac and George Astasio of IIVI. "Gus was my best friend. Finishing COWYS2 without him is the hardest thing I have ever had to do. At times I didn't want to finish it, some days it was just too hard to hear his voice and not have him right there beside me but when I got out of my own head, I could feel him there and that and his incredible fans are what got me through it. I really had no choice, it had to be done and I am proud of what George and I have done for Gus and his fans," stated Smokeasac.
"After working with Gus on COWYS Pt. 1, it was a challenge for Dylan and I, professionally and emotionally to complete Pt. 2, but I'm so happy and proud that Lil Peep fans around the world will get to hear this album. I am forever proud of Gus and in awe of his immeasurable talent and vision," added George Astasio.