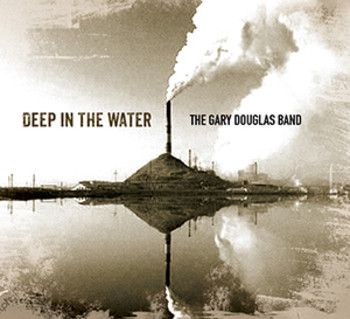 URL: http://www.garydouglasband.com/
The iron and steel of the American heartland comes alive under the brilliant command of singer/songwriter Gary Douglas and his self-titled band in their new album Deep in the Water, which is quickly becoming one of the most hyped country releases of 2018. I've been following the Gary Douglas Band for a couple of years now, having fallen for his smooth vocal delivery in 2015's Keepin' Faith, and I must say that Deep in the Water sees their sound really coming into its own and becoming a trademark of Douglas' own devising. Fans of folk, country and even rock music are going to really dig what the group has put together in this sophomore collection of boisterousness and balladry that I myself couldn't have enjoyed more.
Deep in the Water is blue collar country music at its very best, and by best I mean totally devoid of the glossy Nashville polish that has been plaguing some of the genre's most exciting acts in the last ten years. I wouldn't necessarily even call Gary Douglas a country singer, because in reality his sound is steeped mostly in folk music and Americana, but nevertheless the record that he has produced here will have a very significant impact on country music. We've got that vintage twang in "River Road" and "Do You Wanna Go," the glistening vibrato of old fashioned Appalachia in "Oh My Oh My," and even the outlawish rebellion of "Nothing Ever Goes As Planned." Douglas might not be a country singer, but he's definitely some kind of modern cowboy.
"Million Miles Away" was hands down my favorite track on Deep in the Water, opening with a smoky vocal from Douglas that is ably backed up by a haunting piano and the simple strumming of an acoustic guitar. Instead of diving right after the song's infectiously memorable chorus, Douglas spends some time finessing the beat and playing with its temperament. He doesn't tease us for too long though; the song unfolds into an organ-driven slice of pure pastoral ambience that could only be rivaled by a long trip down an old country road. Out of nowhere there's a saxophone part that throws everything into wildly experimental territory, but instead of feeling blindsided, we just feel like it's a part of the adventure the Gary Douglas Band is taking us on.
Gary Douglas proves to still be the kind of Americana with Deep in the Water, and he's influencing an entire generation of singer/songwriters and country musicians to follow his lead and create their music in adherence to traditional DIY values. Nothing goes over the line or severs the band's connection with its indie roots, as can happen with any group's second established LP. The Gary Douglas Band are here to stay and they've got a lot more magic to share with the world, magic which is finally getting heated up to its full potential with Deep in the Water and should be completely realized by the next time they hit the road.
TWITTER: https://twitter.com/garydouglasband?lang=en
Gwen Waggoner