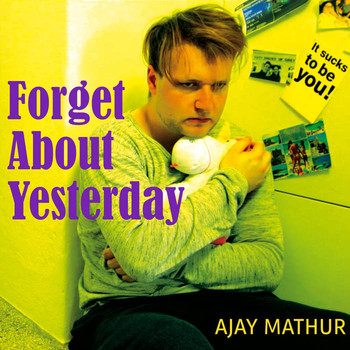 BANDCAMP: https://ajaymathur.bandcamp.com/track/forget-about-yesterday
While the human race has developed countless ways of communicating with each other, it's inarguable that music is one of the only universal mediums that all of us can understand effortlessly. Every culture on the planet has their own musical identity, and though no two are exactly the same, they all share the same fundamental goal of emotional expression. Ajay Mathur is a well-traveled man for his age, having grown up in India and since making a home for himself in Switzerland, but no matter where life has taken him music has always been a constant presence. His new EP Little Boat boasts two new songs that impart to us a glimpse of his professional and personal journey, and although this isn't the first time that critics and audiences alike have been raving over one of his new releases, it could very well be his most accomplished and well-rounded pair of recordings to date. I had the great pleasure of sampling Little Boat ahead of its highly anticipated release and was more than impressed by the level of depth and consummate lyricism that I discovered in its pair of stunning tracks.
Ajay Mathur's Indian upbringing bears a heavy influence over the compositional arrangements of Little Boat as well as its surreal fluidity. The exotic sound of the Far East seeps its way into the string parts and vocal harmonies very subtly at first before eventually dominating the chorus of "Forget About Yesterday," while the percussive attack in "My Wallet is a House of Cards" is a more westernized interpretation of the same template. The two songs complement each other quite well and could be played together as a duo in almost any format that I can think of. That said, I'm almost certain that college radio is going to be the market to give Mathur the credit that he really deserves for this new extended play. I'm even willing to suggest that his music is better suited for specialty stations where it can attract the attention of more intellectually minded listeners, as opposed to casual pop fans who might have a harder time appreciating the dexterity of this sound.
To say that Ajay Mathur has an enormous amount of talent that he brings with him into the studio (or, for that matter, onto the stage) every time he sets out to create new music might be the biggest understatement of 2018 after listening to Little Boat. It's clear that when he has the right tools made available to him he's capable of producing almost anything that he can dream up – which in itself is a pretty big statement. The future is looking very bright for his career moving into the 2020s, and if he continues to yield content as compelling as this latest offering is, I can almost guarantee that his most recent appearance on the Billboard charts will not be his last. It's a global industry, and though the odds would seem impossible to beat, Ajay Mathur appears to be getting a corner on the market.
AMAZON: https://www.amazon.com/Little-Boat-Ajay-Mathur/dp/B078SGXBPW
Gwen Waggoner