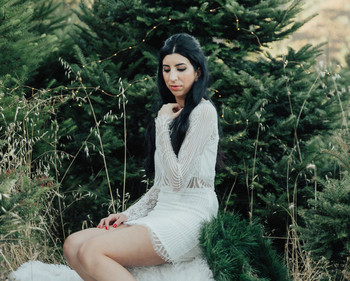 We are so excited to kick off this week with Katie Garibaldi. Katie has been so busy of late and so we had to stop and get the 411. If you celebrate Christmas year round like us she has her album 'Home Sweet Christmas' out now. She also has the video for – "Safe and Warm (Lullaby for Jesus)" out now. So lets not waste any more time and get into it with Katie Garibaldi.
Q: Hello Katie Garibaldi, thanks for joining us today. so before we delve into your music career as it is going now tell us a little bit about your background and how you got into music?
The love of music was always inside me, as if just waiting to express itself freely at the right moment. I loved singing since I can remember, but really got inspired to learn the guitar when I saw teachers in my elementary school playing acoustic guitars. I was so fascinated with the instrument and got excited about songwriting once I learned the guitar. I didn't plan to write, songs just blossomed naturally as an outlet of my feelings. The guitar was like a magic key that unlocked my inner thoughts. As I got older, I knew I was so in love with music and songwriting that I just had to continue down that path since nothing else seemed to grab me. I started performing at a young age and learning everything I could about recording and marketing music and I just kept going.
Q: Okay great, now the video "Safe and Warm (Lullaby for Jesus)" has very great scenery. What made you choose the visual style for the video as it is?
The visual I kept imagining for this music video was singing inside an empty church with glowing lighting from the windows. I wanted the viewers to feel that I was singing to Jesus and that He was also listening. This song is about a relationship with Jesus, it's not just one-sided. It's me with my voice and Him with his light. I brought the idea to the director, Alan Mascareno, and told him that I wanted something very simple and pretty, to really let the song speak for itself but at the same time enhance the message. He liked the idea of the church scene and told me he could also do some drone shots. I was excited about that so we filmed scenes at a deserted field as well to give the impression of a more universal feeling since I wanted to express that God is always there.
Q: What inspired the song "Safe and Warm"? It has a very calming feeling that's very soothing. How did you go about the recording process?
Like many of my songs, this one was born out of me just sitting with my guitar and strumming around. The verse melody came to me very quickly and so did the words, "Jesus, You are number one in my heart." I knew instantly that I was meant to write a song of thanks for Jesus always being there to carry me and be my place of peace. I felt the need to turn to Him on that night, and I ended up doing it through a song. Before going into the studio I worked in detail on what instruments I wanted on each song for this album and envisioned the overall vibe to express to the musicians. We recorded the 'basics' first with drums, bass, guitar, and vocals live. I then re-tracked my vocals and guitar parts. Then I wrote the the background vocal parts and recorded them on my phone to send to the singers. They came in and recorded their harmonies as we practiced, and keyboard parts were added as well. I wanted the song to have a gospel feel and the production to be very simple to let the words resonate more powerfully.
Q: Is working in the studio different than live performance? How do the feelings differ?
Yes, they're two different things completely. Live, I'm feeding off the audience and also not worried as much about slight changes I make in my songs in the moment if the mood takes me somewhere. That's live music to me. Mistakes might happen or sometimes I just want to sing a different note than what's on the album. It's a part of the live energy. In the studio you are in a box and you hear every breath so it's much more critical. You want the listener to receive the best version of the song and you're making sure the production reflects your vision as an artist. The only thing that's the same is when I get 'in the zone', there is the thrill of presenting my music the way that I'm feeling in my heart. The inside is showing on the outside, which is an intimate and vulnerable moment whether you're sharing that with an audience or experiencing documenting that on tape, so to speak.
Q: Tell more about your album Home Sweet Christmas, a interesting title name with a symbolic picture. We would like to know what came about into making this album and the influences behind it?
I wrote the bulk of the songs on Home Sweet Christmas over the course of about eight months. It all started when I was in Nashville on tour and wrote my song "Tomorrow is Christmas Morning" in the hotel room. I recorded that and released it as a single and the holiday spirit must have taken over because after that, every time I picked up the guitar it seemed like a holiday or faith-themed song would come out! I knew that it was a sign I needed to release my own Christmas album, which I've always really wanted to do. Since the birth of Jesus is the true meaning of Christmas to me, there are some more general spiritual songs on the album, like "Safe and Warm," but the album includes a lot of more holiday-specific songs too. When thinking of a name for the album, Home Sweet Christmas came to mind since Christmas is all about being at home with family and also God is my home. So it just stuck because Christmas seemed interchangeable with home, as in 'home sweet home,' and it encompassed the whole spectrum of the album. I feel like this album is something people can listen to year-round as well. It's not meant for only December. I think it gives you the sense of coming home to comfort and joy no matter what month of the year we're in.
Q: The music industry is constantly changing for the next big sound, what do you feel sets you apart from other artists out there right now?
I don't really think about that or pay much attention to what other artists are doing. I follow a couple artists and bands that I really like, but otherwise to be honest I don't listen to a lot of music on a regular basis. I stream music or put on records while I cook, and sometimes listen in the car, but usually I like silence in the car when I'm by myself. A lot of times I'll think of melody ideas while driving. I guess trends come and go in the commercial industry, but I have no idea what those are or have much interest in that. When I was younger I used to think I desperately needed to identify something that set me apart from others, but at the end of the day that's way too much pressure. I just really like being myself. And I hope that working hard and making music that I'm proud of is something that people can recognize and will last.
Q: Who is your biggest motivator to do music? The readers would love to know.
To be absolutely honest, God is my motivator to keep doing music. I've wanted to give up more times than I can count, but then He whispers, "Keep going. You are called," or I open up my mouth to sing and He drops a song in. I can't do anything without God's love and guidance and music is a part of that. Sometimes I get so wrapped up in all the work I have to do and think I can do things on my own. But I can't do it without God and I'm grateful for His faith in me.
Q: When you work on music writing, do lyrics come to your head free flowingly or do you take your time to write with thought?
Every song's situation is different. They're all unique in that there is no one formula for a song to be born. Some happen in one sitting. I wrote "Safe and Warm" over the course of probably two days. Some songs take much longer to complete. There's a song on Home Sweet Christmas called "Love On Christmas Day." I wrote the first verses for the song in one day, but couldn't get that final verse as much as I tried. I put the song down and then randomly months later I was closing my eyes on an airplane flying to LA and suddenly the words came to me so I hurried up and wrote them down. When I got home, they fit perfectly with my guitar part. Even still, I didn't think the song was complete yet. A couple months after that, I picked up the guitar and wrote the bridge part, which was probably only weeks before we went in the studio, and that's what polished it off. The important thing I've learned as a songwriter is that you can't force inspiration. You can give everything a shot and work at writing, but if you're not feeling that the song is right, it's best to just put it down and allow it to come when it's ready.
Q: The production on the music video sounds amazing, would you like to give any special thanks to anyone?
The director Alan Mascareno did a great job filming and editing the video and delivering the vision I had in mind. Josue Camberos was also an integral part of the video's production. He did a lot of lighting and camera work, as well as offer production ideas. Lileana Herrejon did my hair and makeup and did a wonderful job in creating two distinct looks for the two locations. Also, a very special thank you goes to St. Catherine of Alexandria Catholic Church in Morgan Hill, CA where we filmed the video.
Q: Breaking out making a debut, what would you say is the most challenging apart of yourself as a artist?
I'm not really sure how to answer that, but I'd say a big challenge in the music world for me personally has been to allow things to flow, as in not clutching too tight to a particular scenario. Sometimes we ask for things and the universe is trying to give it to us, but we're so focused on one specific way we thought it would be that we're not open to receiving it any other way and we miss opportunities. Especially in the music business, things can change quickly. For example, say you're planning on recording at a certain studio and have a timeline for your record release but something fell through and now you're looking for another studio and have to push back the dates, which has happened to me. It used to be in my nature to stress out and see this as a negative circumstance. But now I've learned it's just God shifting things around for something even better to happen and all I have to do is trust it. I'm much better at doing this now, but still struggle a little bit in holding on too tightly to the way I think plans should go. Letting go and allowing things to happen while appreciating that is definitely something that comes with time and experience.
Q: Would you like to give any personal advice to any starving or upcoming artists trying to pursue a similar career?
I would tell artists who are trying to pursue a career in music to not let fear get in their way while navigating their path. Whether it's fear of failure or fear of success, we are holding our hearts out on our sleeves for the world to see and judge as they may. It can actually be terrifying. But the world also needs artists and music and you have to get over those humps of doubt and fear to be able to make a difference and do what you love. It's not always easy, but if it's your genuinely your truth then just go for it.
Q: If you also have any upcoming tours & features, now this would the be time to mention it along side the other questions.
The music video "Safe and Warm (Lullaby for Jesus)" is the newest thing I'm promoting right now and I'm really proud of the video. I also have my other music videos "Unhappy Holiday" and "Star in the East" from Home Sweet Christmas circulating the independent film festival circuit and I'm working hard on exposing those in the film industry. I'm currently writing my next album and hopefully will be recording that next year. I have some holiday shows and more videos coming so be sure to check my website for all the updates at www.katiegaribaldi.com.
http://www.katiegaribaldi.com/
By – D – dietrichlg92@yahoo.com