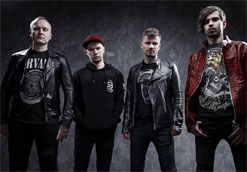 PSYRUS came up in 2016 looking to bridge the gap between rock and EDM, aiming to take the sounds of The Prodigy and Pendulum and inject them with the stuff they grew up on. Raised on The Sex Pistols, GBH, and The Exploited, today the band are pushing nearly 2 million fans.
Andrew K, Tony, Dmitry, and Sergey have a hit on their hands with "Hitcher." The video is just as insane as anyone wanting to go to Mars. Eight words: outer space vodka shots, reptilians, Game of Thrones. America sits on the edge of its collective seat as NASA becomes the first to step foot on The Red Planet. But not so fast! Turns out, the Russians have been there for years. They've set up a party room and a massage parlor. The whole thing is as delightfully disturbing as it is beautiful, almost as beautiful as PSYRUS's hometown, St. Petersburg.
And speaking of Russia, it's the wild west, so no wonder these dudes came up with this concept. The Soviets made the best amps, the best pedals, and what do you know, their descendants can bang out a killer chorus. We're talking about collusion, the space race, and, most importantly, vodka and massages. Yes, massages – massages with brushes, at that.
The "Hitcher" clip got so huge, it inspired a network of Russian game developers to create a video game. According to Andrew K, the game is based on real hacking technology: "Our music video caused a massive reaction in Russia, reaching actual hacking experts who offered to help with the video game script."