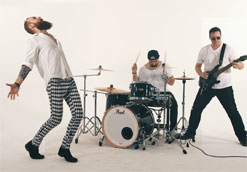 From the hub of heavy electronic and modern sound, My Demons Galore have brought rock back to Brooklyn. With hard-hitting riffs, striking lyrics and anthemic melodies, their theatrics mirror those of Queen, Muse, and My Chemical Romance. They hold the torch for the lost and the broken as they balance these contrasting forces. Triumphantly, they have accepted themselves for their next project with their newfound strength to overcome and conquer.
https://www.mydemonsgalorerocks.com/
My Demons Galore consists of Dan on vocals, Aron on guitar, and Serg on drums. In 2016 they released their self-titled debut EP, complete with visuals of epicness and debauchery. Fashionably released on Halloween, their fast-paced hard music comprised of distinct energy and vigor that is suited for the dark holiday. To celebrate they released their first music video for "Empty Bottles" in 2016 acting as a visual representation of dependency fueled by ego. They received instant success and have paved the way for themselves to control the darkness that has plagued them many moons ago.
After a minor hiatus in 2017, despite parting ways with some of the original members and dealing with emotional and personal issues (which almost resulted in what seemed to be the end of MDG's path to stardom), the band refuses to give up. Their latest video, "Carry Your Own Light", is an anthem dedicated to the beautiful souls that struggle with mental issues. The video opens with a noose inviting the viewer into their world of chaos and self-destruction. The shot quickly pans out then looks in, breaking from the band to distressed fans. With hair pulling, thrashing, and screaming, the roaring chorus matches the intensity of their complex emotions. Holding the torch for resurrection, they master how to balance out their light and dark to ultimately become whole. At their lowest, they have looked up to gain insight into what they were running from: themselves. With their head held high, the video comes to a close with a new beginning.