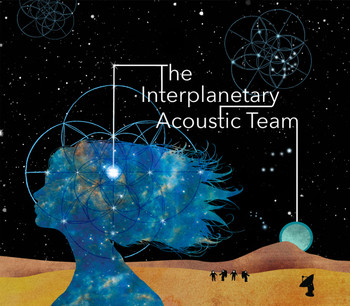 If you're looking for something vastly unusual that is like nothing you've ever heard or experienced before, then The Interplanetary Acoustic Team's "Light Sketch" is your golden ticket! The song is like something from another galaxy just free-floating in space & time for all lifeforms to witness. Right away, I was taken a back and surprised at just how different this music production was by The Interplanetary Acoustic Team.
This single is off of TIAT's debut album titled '11 11 (Me, Smiling)'. When I hit Play, I was hearing deep, intricate patterns of sounds, lyrics & effects on "Light Sketch". The listener will enjoy spacey soundscapes and random words that seem to linger on forever. I'm not exactly sure what the meaning is behind the verses, but The Interplanetary Acoustic Team will be sure to tempt your musical palette from beginning to end. "1, 1…1, 1" is repeated throughout the entire track and has me baffled as to what the significance is behind this number. This leaves me feeling inquisitive and confused as I just want to put my detective hat on and crack the case on this mysterious aura surrounding the 1 sequence. Retrieve some clues and just try to wrap your head & ears around this maze of distortions if you dare. Reality isn't what it seems on "Light Sketch" as TIAT takes you on one wild ride. Think of the late, great Gene Wilder and the scene from "Willy Wonka and the Chocolate Factory" where they are all on a boat going down the chocolate river and enter the tunnel of warped visions and madman mentality. This is The Interplanetary Acoustic Team and "Light Sketch" in a nutshell!
https://www.interplanetaryacousticteam.com/
Not so sure if Robert Stack could solve this mystery, but have fun trying to decipher the substance in an attempt to get to the bottom of "Light Sketch". You can map out the atmosphere, jot down ideas & thoughts and draw out conclusions from your findings. The Interplanetary Acoustic Team will mystify you and "Light Sketch" will leave you in question wanting answers. I'd like to refer to this project as unfinished business.
By Jimmy Rae