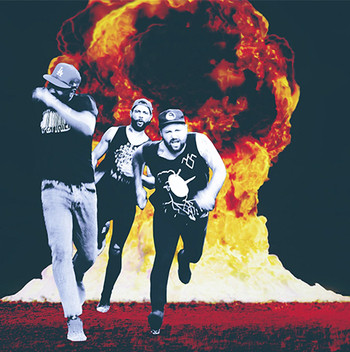 Of all the punk rock bands who've turned their derision against the current authorities, none are more ferocious – or unsparing in their contempt – than BLXPLTN. On two marvelously brutal full-lengths and a clutch of standalone singles, the Austin three-piece outfit leads with righteous rage. They've paired their examinations of race, class, gender, and sexuality with incendiary music that kicks hard at conventions and boundaries of all kinds. Now, they're promising us a third set, and they've been warning us that it's going to be rougher, louder, more bracing, more uncompromising, and more punk than anything they've ever done before. And to let you know they absolutely mean business, they're sharing "No English", a song that puts America's nativism in the crosshairs.
Critics across the country – and around the globe – are taking notice. The group has been praised by The Fader, The Four Oh Five, England's Kerrang!, OkayAfrica, and many other publications. Noisey warned that the band would "burn down the stage, the crowd, and your house"; The Austin Chronicle named BLXPLTN the Texas capital's "most politically compelling act" and likened their sound to an audio Molotov cocktail. Most notably, they've been championed by Afropunk, the activist website dedicated to black culture at its most creative. BLXPLTN was a featured attraction at Afropunk festivals in 2014 and 2016, and they'll play the Brooklyn and Atlanta events this year, too.
"No English" is a prime example of everything that makes the band tough to deny and even harder to ignore: the flamethrower lyrics of frontman TaSzlin Muerte, who pulls no punches in his appraisal of contemporary politicians, the manic riffing and overdriven guitar of Jonathan Horstmann, who provides the song's backbone, and the powerhouse drumming of Jeremy Kivett, the newest member of the outfit. All three get plenty of screen time in the "No English" video, and the chemistry between them is palpable. But they're not the only characters in the clip. The camera also follows a shirtless, tattooed man running in slow motion from an armed agent of ICE. It's a hot night in Texas, the headlights of parked cars throw ghostly shadows across the border crossing, and the branches of the trees hang heavy over the performance area. Frantic cutting between the musicians and the scene of the chase provides a visual metaphor for the anxiety of the pursued: he's quarry for a paramilitary force. But he isn't depersonalized or dehumanized. Terror is written all over his face. His horror is our horror, too.