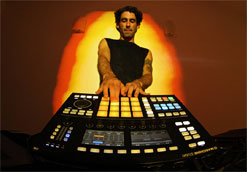 When he was only 15 years old, Gidon Schocken began playing guitar. He quickly took affinity for the instrument and began playing in bands. He explored everything from post-rock to hardcore to punk and even noise – but when he was 18, as is mandatory in Israel, he went into the army. Music was on hold for a few years, but after finishing his service he studied music production.
It was still a gradual move from there to his current solo career. Schocken continued playing guitar in bands before dabbling in electronic music, though it's only in the past three or four years that he moved solely to electronic music. At first, he performed beats with an MPC; then moved to a Maschine. But for the past year, he's been transitioning to creating full tracks. "I felt a bit limited with staying only in the beat realm," Schocken says. Israel's electronic music scene "is really growing", he adds, particularly in Tel Aviv, where he's based. He now creates trip-hop/down-tempo tracks that take influence from artists like Massive Attack, Lorn, John Hopkins, and Nosajthing. Blending "as many different genres into one as I can", his goal is to make electronic music sound not only acoustic, but to make it more human.
http://www.gidonschocken.com/
Gidon Schoken's latest track, "Sunn", is his biggest and most compelling yet. It's one of a handful that will be included on an upcoming EP, Immerse, that's set to be released later this year. "I felt that all the stuff I've been through as a musician is coming together on these tracks," he says about the EP. "Sunn", in particular, is about getting stuck in behavioral loops – sometimes we don't realize at first that we're going through one of these loops, but eventually we can learn how to move through them and release ourselves from them. The song features lyrics and vocals by Afik Doari, a singer with a unique accent. Directed by Stephan Stelman, the video centers around a girl sitting at the dining table. She loses herself for a few moments and is soon stuck in the same loop of eating dinner with her parents. Throughout this, she's seen going in to her own little world, where she begins to learn about herself.