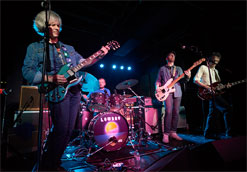 We all know about the deep musical history of Minneapolis-St. Paul. But what about the region's sitcom history? Some of the most famous television programs to hold the attention of viewers for a comic half-hour were set in and around the Twin Cities: The Mary Tyler Moore Show, Coach, Get A Life, even the proto-sitcom The Many Loves Of Dobie Gillis. Artists from Minnesota aren't merely heirs to Prince, Husker Du, and The Replacements. They're also inheritors of a comic storytelling tradition that found its expression on the small screen.
LowRay knows all about that. Although drummer James Irving is originally from England (before coming to the States, he played in the incendiary blues-rock outfit 22-20s), this is a Minnesota band through and through, and they've become star attractions in the competitive local scene. Their music has the inventiveness, tunefulness, and incisiveness we've come to expect from Twin Cities artists. And in their smart – and often very funny – clip for "Friends And The Fakers", they pay sardonic but loving tribute to the situation comedies of the '70s and '80s.
The wit will come as no surprise to the group's followers. Frontman and guitarist Dan Fowlds, who made a name for himself in Minneapolis bands Pill Hill and Bump, has a well-deserved reputation for crafting thoughtful lyrics. Columbia, the debut LowRay project, featured six sharply-written, keenly observed songs – and it earned the duo a devoted following among fans of grown-up pop-rock. "Friends And The Fakers", the first single from the upcoming LowRay full-length, picks up right where Columbia left off. It's a meditation on trust and authenticity, and it's also ferociously catchy.