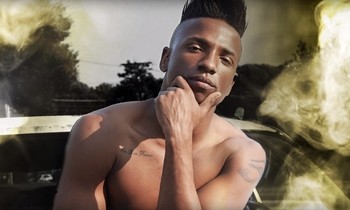 We @skopemag are lit to post & share the Rico Davis – "Hustle Harder" Interview. In 2018, Young America Entertainment is proud to release this new single by Rico Davis. Lets allow Rico speak on this new single and get to it. I know he has much to share & offer insight. You may even learn something too.
1. What is "Hustle Harder" about? Who wrote and produced it?
RD: "Hustle Harder" is a song about creating a way out of no way. I co-wrote this record with my business partner Quis Vaughn and it was produced by my bros Jsoundz and AkilisMusic.
2. How have "challenges" and obstacles influenced your music?
RD: For me, it was always about staying true to who I was and who I wanted to be. The pressures of growing up in a high crime area of Camden, NJ almost took me off course of doing the right things. The challenge of growing up homeless the first few years of my life taught me how to create fortune vs chasing it. The challenges of discovering manhood without a male figure to guide me taught me how to think for myself and trust my gut. Fortunately my Mom was that strong foundation for me through it all. It is a true HUSTLE to stay on the right path of creating yourself.
3. How can men and women relate to Hustle Harder?
RD: To me, In order to call yourself a Man or Woman you have to be about your shit. That's it. We live in a world where if you're not creating something you'll fall by the waste side. It takes tremendous courage and determination to overcome what's set against us.
4. What's next for Rico Davis?
RD: Right now I'm promoting Hustle Harder and Do U Wanna. I'll be back on the road soon…and of course more songs and videos to come. The last months of 2018 is very lit indeed.