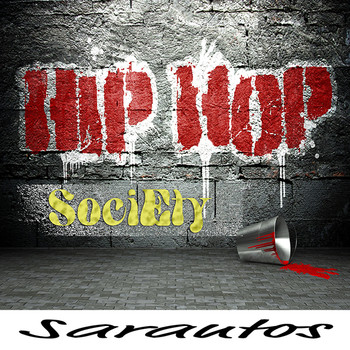 On "Hip HOp SociEty" Sarantos shows off a bit of playfulness, resulting in a whole carefully crafted world. Done with the utmost of precision, Sarantos picks his words carefully. His flow has a nimbleness to it while he draws from pop culture in such great amounts, showing off his clever lyricism. Production has a raw, gritty quality to it. Besides the clear indebtedness to hip hop, Sarantos also draws from his rock background to create such a vital mix that reveals a great level of thoughtfulness. Layer upon layer of sound pours into the mix while the whole of the piece simply sings with such grace and majesty.
Beats hit hard and help to start off the track with such grace. Piano and the raw funky drums work in unison to further emphasize the power of Sarantos's words. Evolution occurs slowly yet it does happen. Featuring rather intelligent twists and turns, the piece proves to be an effective parody. Clearly Sarantos understands the basic tenets of hip hop and messes with them in a loving, compassionate way. Over the course of the track Sarantos reveals a true talent for form, as his flows glide along with such tremendous ease. By far the highlight comes as the song continues to let loose, moving further and further into a neon-hued rush of color which brings the piece to a close.
Sarantos proves to be an exceptional producer on the rich dense mix of the heady "Hip HOp SociEty".
By BeachSloth