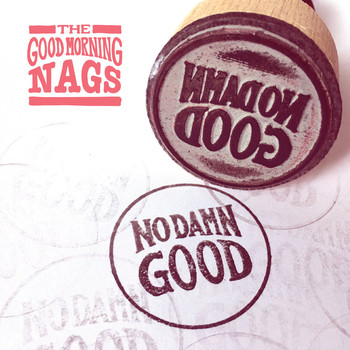 Now, with so much Nashville-recorded modern "country" music sounding like it's been tracked in either New York or Los Angeles, it should no longer come as a surprise to hear authentic roots music with New York City roots. The Good Morning Nags are a country and bluegrass-inspired act from New York City, and the sounds these six created with the No Damn Good EP is as authentic as Americana music gets.
The title track to this two-song EP bumps along to an Old Crow Medicine Show-esque groove. It's colored with harmonica, banjo and fiddle with an enthusiastic barn-burning lead vocal. "No Damn Good" features a course that confesses, "I'd be better for you if I could/But too bad baby 'cause I'm no damn good." It's a tale about an unmatched pair. This girl's too good and too sweet, while he's, well, good for nothing. With lyrics like these, you might expect the song to be a sonic downer. It's not, though. This is a rambunctious tale about the rebel kind. He's what society might consider a bad apple, yet instead of being embarrassed about his admittedly poor character, he takes expressive pride in his substandard citizenship. Let's not forget that sometimes the nice girls fall for the bad boys. One is left wondering, if secretly, this is his whole plan. As though he is a snake tempting this girl with some forbidden fruit. It's a jubilant song that will make you immediately like this miscreant — for his honesty, if nothing else.
"Birmingham" is a quieter, moodier track. It features a minor key melody, which includes mandolin and banjo upfront in the mix. It's a road song, too, as it begins with the sound effect of a car engine starting up. It includes a bluegrass-gospel section about midway through, with a churchy hand-clapping congregation. This song, about traveling to Birmingham, might also be a metaphor for the act's goals. These musicians may call New York City home but, by the sound of their music, their hearts are more accurately right in the heart of the south. You can hardly get more Southern than Birmingham, either.
The Good Morning Nags make refreshingly pure music. They play their instruments extremely well and write melodic and memorable songs with sincere depth. However, don't confuse this music with more gimmicky acts, such as Dexys Midnight Runners — an act, by the way, that created wonderful music. At the same time, though, the group dressed like backwards-looking hillbillies. These were fashion statements, more than musical authenticities. The members of The Good Morning Nags, in contrast, dress much more casually. Yes, there are jeans and elements that could be termed truck driver attire. However, there's no suggestion of any fashion statements in these apparel choices.
http://thegoodmorningnags.com/
Fans of contemporary pop music may have trouble 'getting' The Good Morning Nags' music. They may think it backwards or hokey. This won't happen with musical traditionalists, though. These players will go straight to the hearts of roots music loving fans. This audience is obviously their aim. Even though this music comes from the unusual locale of New York, The Good Morning Nags hit all the right marks. Listen without prejudice. Just listen and enjoy.
-Dan MacIntosh