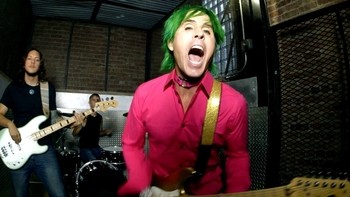 In Beautiful New Day, Jupiter in Velvet delivers his most accessible recording to date after years of making a critical impact on the indie rock underground and influencing a number of artists around him. Jupiter in Velvet has been somewhat of an enigma to mainstream audiences since making his debut about half a decade ago, but in this latest collection of indie gems he softens his rough edge just enough to make his sound palatable and relatable to even the most casual of listeners without sacrificing a shred of artistic integrity. I expected to enjoy Beautiful New Day just based on his previous output alone, but I little did I know that I would be enjoying what is arguably the most thought provoking rock record of 2018.
https://jupiterinvelvet.com/home
In songs like the blistering "Monsters," we see a side of Jupiter in Velvet that we've never seen before; his freewheeling side. It doesn't feel like he's holding back or limiting himself to where he thinks a melody can go; everything just flows from a stream of consciousness like place, leaving the listeners to absorb all of the blissful artistic vulnerability that comes as a result. Beautiful New Day is Jupiter in Velvet's most straightforward and clean cut offering yet, but it's also his most brooding and intimate. All of these songs would translate just as well in a live setting as they do here, in their original studio format, and that's something that isn't just rare in this business – it's next to impossible.
Jupiter in Velvet has always possessed the capabilities of being a rock n' roll superstar, but at last his sound has come into its own for everyone to appreciate equally. Some critics might take issue with the fact that his watershed moment took a little longer than expected, but I for one think that time has served him well. The style of attack that he's employing now is mature and refined, and something that personally I don't think he could have achieved without hammering out all of the hick-ups as he did in his last album. Good things come to those who weight, and from where I sit Jupiter in Velvet is finally cashing in on a long term investment he made at the start of his career.
Beautiful New Day can be rightfully described as Jupiter in Velvet's official foray into the mainstream pop world, and with the grooves that its sporting it promises to be the first of many stunning achievements in this new chapter of his career. I'll be following along as much as I can, and I'm certain that I won't be the only critic who is taking note of the improvements he's made to his sound. Pop is such a fickle thing, and the tastes of the average listener are about as predictable as the weather, but one thing never changes; great songwriters will always play a crucial role in the evolution of mankind as we know it. Jupiter in Velvet is ready for the future, the question now is whether or not we are, too.
CD BABY: https://store.cdbaby.com/cd/jupiterinvelvet20
Thomas Patton, III