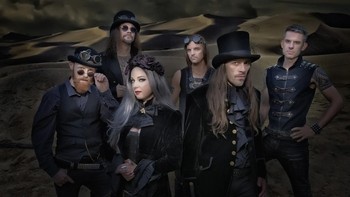 The Finnish cinematic metal band Dark Sarah just released a music video for "Sky Sailing", the third single from their new album "The Golden Moth".
"The Golden Moth" will be released on September 21st in Europe and North America through Inner Wound Recordings.
"The Golden Moth" is the last part of the first Dark Sarah trilogy (The Chronicles). The trilogy tells about Dark Sarah's travel through three worlds: The Middle World ("Behind The Black Veil" album), The Underworld ("The Puzzle" album) and The Upper World ("The Golden Moth" album).
On "The Golden Moth" album Dark Sarah has to face the final test and find her way to the gods in the Upper World. After she had solved the puzzle in The Underworld and found the three keys, the Iron birds came there for her and took her to the Upper World, a deserted waste land where the gods rule. But also a trespasser, The Dragon, came with her. In the heat of the desert they meet again and there is something The Dragon wants from her.