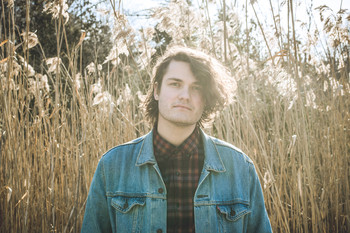 Happy Saturday morning here on the east coast, to all out there, we are so excited to see you! Today we have hooked up with Dakota Mill. Dakota Mill is a singer-songwriter hailing from the small town of Kilbride, Canada. It is there where he began to pull inspiration from his surroundings in order to channel them into his songwriting. Dakota Mill released his debut record "AGES" independently on July 2nd. The record features five lyrically driven songs supported by a simplistic arrangement of instrumentation, making the recordings sound full but organic in nature. Let's get into it!
@skopemag: Where are we talking from today?
Currently I am sitting in the world's greatest music store, Get Loud Music in Milton, ON. Dave if you read this I'm sorry I'm not working at the moment!
@skopemag: What is the most current project that you are working on at the moment?
For the past year or so I have been writing and recording music under the name Dakota Mill. Prior to Dakota Mill I wrote songs in an indie rock band and before that I wrote mostly acoustic folk songs. When I decided to move into more of a solo project it was interesting to see the two sides of my writing come together. To me, Dakota Mill is a good balance of indie rock vibes without losing the "folky" feel in which my songwriting started out as!
@skopemag: Got any music posted that we can stream and check out?
Heck yeah. I recently released my debut EP "Ages" at the beginning of July. The record was produced, mixed, and mastered by my good pal David Partridge at Helm Recording. Working with David in the studio is always such a great experience. He is super easy to work with and has wicked ear for music! David's been in the writing and recording game for a very long time and has a unique approach when it comes to producing and arranging which I think compliments my writing really well. I'm really stoked to get back in the studio him!
@skopemag: What is it about music that you knew this was more important than all other artistic endeavours?
I don't know if I'd say music is necessarily more important than other artistic endeavours but I do know that I am a naturally creative person and for me, music has been a way of expressing that creativity. I think that's likely the way it is for most creative people no matter the art form. I think as long as we're creative we'll find ways to express it and music for whatever reason was just the most natural form of expressing creativity for me. Maybe I could have expressed it in a different way but because of my experiences and associations music ended up being the outlet.
@skopemag: Would you say that your family/friends support your music journey?
My family and friends have always been incredibly supportive of my music. While living with my folks they were usually the first people to hear new songs. They always made a point to give constructive criticism which was super valuable when taking the songs to the studio or shows. As for my friends, I can't explain how lucky I am to have such wicked people in my life. They've helped form some of my greatest memories and I wouldn't trade a single one them! Except Sal.
@skopemag: When you are not doing music what else do you enjoy?
If I'm not doing anything music related I usually like to be outside hiking or pretty much doing anything outdoors. I also love movies and I get hooked on TV series pretty easily too so I've definitely had my fair share of Netflix binges.
@skopemag: How do you test whether your new song is a keeper or not?
It kinda depends on how confident I am in the song to begin with. Sometimes I'll play it for a buddy to get their opinion on the tune, or sometimes I'll toss it in mid set and gauge the audiences reaction. As writers we're often biased towards our own work. For example, when making the song selections for "Ages", I didn't know how I felt about including "Old Souls" but David was pretty confident that we could do some cool stuff with it through production. As we added the instrumentation to the track it quickly became one of our favourites out of the bunch. I think you should trust the taste of those around you to a certain extent. I don't think you should write with a focus on appealing to everyone but at the same time, it is good to hear feedback from those that consume music on the regular!
@skopemag: How much time per week do you devote to music & social media marketing?
I try to write every day but that's not always possible so on the days when writing isn't a thing, I'll usually run through my set a few times. As for social media marketing, I definitely don't devote as much time as I probably should. Social media really isn't one of my strong suits, I try to keep up on it but it definitely doesn't come naturally to me. Most days I feel like an old man playing a young kid's game.
@skopemag: Should I feel guilt as an industry insider for paying $10 a month for Amazon Music Unlimited and having access to all music as I please?
Nah I don't think you should feel guilty. That's just the way the world is going. I'd like to believe there's better streaming services than others, I use Spotify because they seem pretty transparent about where the money goes but who really knows. I think as consumers all we can do is support artists the best we can. Buying merch, going to shows, and simply just sharing/talking about artists is all we can really do until someone up top does something to shake it all up.
@skopemag: What kind of environment & mood do you feel most creative towards your music?
I haven't really found a specific environment that I feel most creative in. I think it's a good thing to try and write songs in different environments because you can pull different inspiration from different places. At least that's my experience. With that said though, I do write the majority of my songs when I'm home alone. I have tried to do the whole collaboration thing and though it can be a really good experience, I think most of my best work has been done by myself. That's how I started off writing songs so I guess that's just what comes most naturally to me. Recording is a little different. I've had lots of awesome experiences working with different people in the studio and it's a lot of fun to bounce ideas off each other…especially that David dude, he gets it.
@skopemag: When are you most inspired to create music?
I get pretty amped to write music after seeing one of my favourite artists live. Whenever I go to see someone it reminds me how badly I want to be up there doing it so when I get home all I want to do is write music. Generally speaking though I usually find myself more creative late at night than during the day.
@skopemag: What is coming up for you & where you @ online?
I plan on continuing to write and record music as well as play as many shows as possible! The current record that I'm working on is going to be another 5 song EP and then after that I'm hoping to head back in the studio to record a full length! Until then you can listen to my EP "Ages"! You can find it wherever you can find Beyonce's music. Only better.