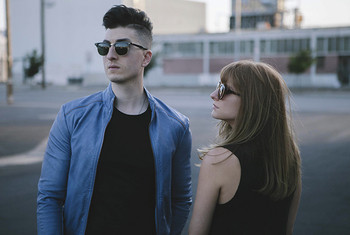 Man Made Time's latest video for "Insanity" tackles inner demons, addiction, and anxiety with an undeniable honesty. Their single "Sail Away" premiered on the Huffington Post, and their previous release, "Fool," earned them even more fans. One look at "Insanity" makes it easy to see why: they're now poised for even bigger and better things. The LA-based synth pop duo's influences seamlessly combine major-player 80's and 90's pop/rockers with modern-day trailblazers like Phantogram, La Roux, and Ellie Goulding. What began as impromptu jam sessions in the coffee shop parking lot led to studio sessions and here we are.
Singer/songwriter/producer Hillary Grace wakes up to find herself locked in the backseat of a car driven by musical cohort Albert James Babanian (synth, songwriter, engineer-producer). He berates her with her own lyrics over an incongruously beautiful and ethereal acoustic piece. As the single camera pans back and forth between the two, a palpable tension builds even as the melody lulls the listener into a false sense of security that maybe everything will be fine. But as simply and elegantly shot as "Insanity" is, no one wants to be on the ride Hillary's on. Once she awakens she realizes she needs to get out of this, but she cannot escape until she realizes she cannot fight. She decides to accept and acknowledge and let go of the results rather than trying to control it. She is then free.
Man Made Time's music is about how our minds often work against us. It's about that even in the face of that, we must stay true to who we are. And you wouldn't know it to hear it, but they banged this one out in 2 days. Long-time collaborator Margos Margossian, creative director of photography on the video, had the idea to portray a metaphorical interpretation of what the inside of a suffered mind might look like. With the car driven by someone not interested in your directions, he did just that.