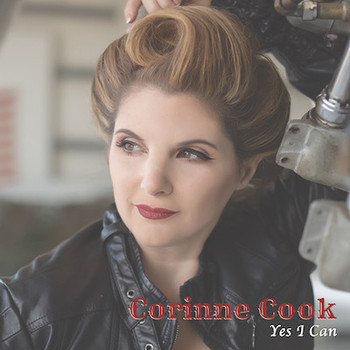 California native Corinne Cook is set to bring her music to the world in a bigger manner than ever before with the release of her latest album Yes I Can. The eight song collection, brief by modern standards, demonstrates an across the board command of music and songwriting fundamentals while casting its net across multiple genres. Cook's superb singing sounds at home with each style she takes on and her collaboration with longtime producer Denny Martin frame each of the album's songs in the best possible light. The Gulf War veteran brings a lot of life's highs and lows into her music, aptly embodying the self proclaimed "emotional rollercoaster" quality of her material. Cook has experienced ample commercial success thus far with her previous two releases and the splendid results she achieves with Yes I Can confirms her talent is major enough to merit her move into another strata of renown with the release of Yes I Can.
https://www.facebook.com/corinnecookmusic/
https://www.instagram.com/corinne.cook/
"Last Thing to Go" is a wise tune underneath its bluesy bluster and bitter humor and it's to Cook's credit as a singer than she handles a blues soaked number like this with every bit as much aplomb as what we hear from her on the album's ballads. She's given an impressively solid foundation to sing over thanks to the physically engaging bass and drums and brings grit into her voice to help accentuate the raw-boned style she displays with this number. "One Box of Tissues" is cast in a similar lyrical style, but it's even more playful with Cook feinting towards a ballad during its opening moments before choosing, instead, to settle into a fat, well rounded mid tempo groove for the song's duration. The choruses on Yes I Can are one of the studio album's strong suits and this features one of her most memorable turns with this portion of a song.
"Yes I Can" is a moving, perfectly conceived title song exploring the stories and cost historical figures in women's liberation paid to make their voices heard. She ties it into her own story without ever striking the listener as a bad idea. There's a bit of surprise coming with this performance as Cook tempers her spirit some rather than throwing herself headlong into the tune and the resulting tension that generates helps distinguish this as one of the album's best efforts. "Devil's Heaven" works up quite a sweat as one of the album's rockier numbers, but there's enough twang embedded in the song to keep it close to its obvious rollicking country music roots. The rock posturing continues with the follow up "Mr. Mechanic" and this song brings together an inventive, electrifying arrangement together with one of Cook's most zesty vocals on the release.
The album's song "Seven White Stars" bemoans a soldier's death and the resulting grief in the face of such a tragedy, but this isn't some jingoistic flag waving number wearing its politics on its sleeve, Cook, instead, is much more invested as both a singer and recording artist in the humanity of the moment and communicates that in every syllable of her vocal. "Those Few Dreams" ends Yes I Can on a slightly downcast note, though there is something exultant in the sense conveyed by the song that we will persevere through loss and change. This release is a
victory for Cook in every way as well.
https://www.youtube.com/corinnecookmusic
Trace Whittaker