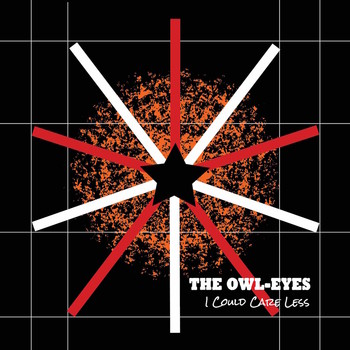 The Owl Eyes first came to life in 2013 as a solo vehicle for multi-instrumentalist Ethan Teel and resulted in two EP releases preceding the band's forthcoming full length debut entitled Hallelujah Hysteria. The Minnesota native sings, plays guitar, bass, drums, and serves as The Owl-Eyes main lyricist, but the first single from Hallelujah Hysteria, "I Could Careless", never sounds anything less than an earnest band effort rather than a glorified solo release. The single, written and recorded under the influence of the 2016 Presidential election, is definitely impassioned but never lapses into browbeating the audience with political dogma.
Instead, it has a jagged rock edge driven by a tightly composed riff. The raucous feel accompanying the opening continues for the entirety of the song and Teel's vocal accentuates it with a minimum of post-production effects. The lyrical content has a number of turns with surprising flair and the intelligence characterizing the writing elevates it above simple politically fueled ranting. The writing, furthermore, syncs up quite well with the arrangement rather than being subverted to it.
The Owl Eyes, thankfully, doesn't rely on its strong riffing alone to carry the performance. The riffing backs off at key points during the arrangement and adopts a less assertive, elongated approach; it's a decision that pays off with a more varied feel rather than allowing itself to fall into an one dimensional line of attack. The mix of different movements within the song makes it a much richer listening experience without ever pulling the song away from its core sound.
Running just a little over four minutes, it packs a ton of twists and musical fireworks into a relatively brief tune. The alternative rock leanings of this song never sound like they are aping greater talents; instead, Teel's songwriting has its own voice from the first and we haven't encountered many musicians and songwriters so young who, nevertheless, strike such a fully realized note. The Owl Eyes' "I Could Careless" bristles with musical power, fierce smarts, and a rousing rock spirit bursting from every bar of the composition.
Adrian Avallone