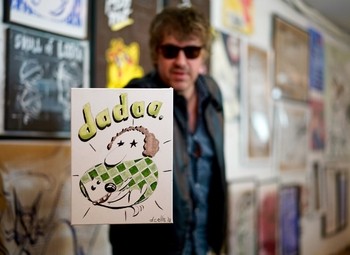 When you pay a visit to the studio/gallery of David Craig Ellis, you must be prepared for creativity at its best. Travel to the basement like you're descending into an illegal gambling den or speakeasy, pass room after room of screaming guitars and crashing cymbals and proceed to a studio with every wall decorated in paintings and press clippings.
David is an interesting multi-talented artist who was first baptized into the love of rock and roll after discovering Kiss in 4th grade. He dabbled around with a guitar and his parents agreed to pay for 6 months of lessons with legendary guitar teacher Gary Hawkes. A contract was drawn up by Ellis' father, forcing him to "practice from 4 till 6 on weekdays and for 4 hours on weekends at times it won't piss anybody off."
After high school, Ellis set out on the road with a rock group on tour within his native Canada. This eventually led to David's band Nitromusk being produced by the infamous Don Fleming. (Screaming Trees, Sonic Youth, Teenage Fanclub). Settling in Brooklyn, New York, he opened his multifunctional studio/gallery (painting, photography, silk screening and a soundproof glass room full of guitars, drums and amps). Now he is focused exclusively on his art, his colorful and lively oil paintings of cartoony characters splashed across a message of text cover the walls and seem to come to life.
"My favorite one man show last year was the one I did in a gallery in Bushwick, Brooklyn. It was an X rated show of filthy and offensive paintings and it sold out. A lot of rockers at that opening, it wasn't for the wine and cheese crowd."
These days while painting, Ellis sometimes takes a break and jams on the drums for a while then he returns to the painting with a fresh new approach. A new series he's working on, "Unauthorized Collaborations" is a collection of works by other artists in which he's painting right on top of. (he's added a witch flying on a broom to the famous poster of "Starry Night" by Van Gogh.) To see David's body of work ranging from his first drawing of Snoopy to his latest painting entitled "Mob Ties" visit his studio/gallery located at 68 Jay St. in the Dumbo section of Brooklyn. Attend an opening scheduled on the first Thursday of every month from 6-10 pm, in association with The Dumbo First Thursday Gallery Walk. Thursday Sept 6th the Gallery Walk will feature a book launch party for Ellis' new book of drawings entitled "Doing Lines With David Craig Ellis. His studio is also a stop on the popular "Real Brooklyn Tours" the highest rated walking tour of Brooklyn by Priceline and Expedia. (book a tour online) For future works, look for outdoor murals in the tri state area and catch his ever changing exhibits on the first Thursday of the month, always in Dumbo.
http://www.davidcraigellis.com/
by Nick Christophers