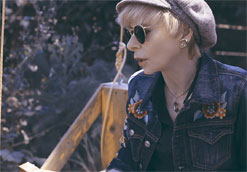 California is one of the most beautiful places in the world. But because of climate change, it's also one of the most threatened. Wildfires, droughts, landslides, animal extinctions, heat waves: all of these have been worsened by the global environmental crisis. As people in power continue to sit on their hands, it's been left to other people to sound the alarm. Artists are increasingly adding their voices to the mix.
The celebrated Americana singer-songwriter Dulcie Taylor resides in Atascadero, a quintessentially Californian city that's almost exactly midway between the major population centers of Los Angeles and San Francisco. She's got a pretty good view of the entire Golden State, and she's worried about what she's seeing. And when Dulcie Taylor is moved by something, it's a safe bet that she's going to raise her voice about it.
"Halfway To Jesus" is Taylor's message to the globe. In the song, the singer asks us to confront the destructive consequences of our appetites before it's too late. She's no stranger to topical songs – she has often tackled tough subjects with uncommonly direct language. "When the Cherokee Roamed", a standout from her prior set Wind Over Stone, was both an expression of compassion for Native Americans and a challenge for those of us who now share this continent with them. Yet she's never sounded quite as urgent, or as passionate, as she does here.
Taylor has the musical skills to back up her fiery arguments. Her vocals radiate toughness and sensitivity in equal measure, her writing is sophisticated but always approachable, and she's magnificent on the guitar and dulcimer. Her YouTube channel has now reached over 1.2 million views and rising! Most recently, she released the album Better Part Of Me, her seventh overall and sixth on Mesa / Bluemoon Recordings. Deep Roots said of Better Part Of Me, "This level of craftsmanship and soulfulness simply doesn't come along too often these days."
The clip for "Halfway To Jesus" opens, appropriately, with a storm. Taylor shows us images with which we've all become far too familiar: flooded neighborhoods, hurricane-wrecked coastal cities, glaciers melting, fires on forested hillsides. If "thousand-year" catastrophes now happen every year, how much more will the devastation accelerate? Taylor herself sings and strums her dulcimer in a field of fire-blackened tree stumps. It's an arresting site, and one that suggests encroaching peril. The singer's seriousness throughout is evident – but she does tip her cap to California governor Jerry Brown, who has been outspoken in his advocacy of action against climate change. When he speaks, Taylor's video suggests, we ought to listen.