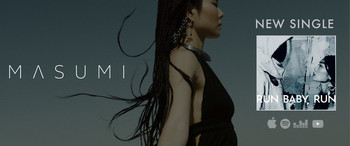 With one voice and one guitar, Japanese singer-songwriter MASUMI transcends cultural borders. She creates music with the intention of giving hope to others without shying away from the darkness that makes us all human.
When asked about her motivation, MASUMI shares that she found her strength and calling to pursue music after living through the devastating 2011 Tohoku earthquake in her home country of Japan. Feeling the 9.0 magnitude tremors while trapped in an underground café in Tokyo inspired her to choose a path that made her feel alive. Following her true path and passion for music, MASUMI moved to Los Angeles and attended the Los Angeles Music Academy. Since graduating, she has worked with top industry veterans: Singer and vocal coach Dorian Holley (Michael Jackson, The Tonight Show with Jay Leno), Grammy-Award Winning Producer/Engineer J.J Blair (Johnny Cash, June Carter Cash and The Who.), Warner Brothers songwriter/producer Ichiro Suezawa (Michelle Branch, Bruno Mars, Beyonce), multi-platinum award-winning songwriter/producer Nash Overstreet (Hot Chelle Rae) and Grammy-nominated producer Tristan Boston.
MASUMI has also appeared in music videos for major artists such as Justin Timberlake, Bishop Briggs and Youtube star Shae-lee Shackleford (SketchShe.) MASUMI's goal and mission also led her to work with not-for-profit organizations GenNext x College Music (NAAM Show), Women's Rights at CSDI, Optimist Youth Home Organization dedicating her time as a musician for causes that inspire the youth around the world.
Her brand new single 'Run Baby, Run' was inspired by a dark time in her life. The song aims to awaken the warrior within each of us to overcome the fear and empower our authentic selves.