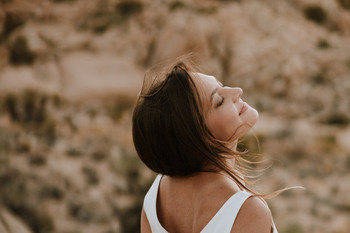 Raised in a varied musical household – her mother was a professional Polynesian dancer and her father was a vinyl enthusiast – Monica Aben considers herself emotional, but not damaged. "If I'm not between a three and an eight on the emotional scale, I'm crying," she says, laughing.
Co-written with her close friend April Bender, new single Almost Good Enough from forthcoming LP In Your Universe was written in the heat of the moment, perfectly preserving an emotional conversation representing a particular situation into a song like a time capsule. It was the brainchild of an extremely productive venting session wherein the pair, newly introduced, discovered the similarity of their frustrating romantic entanglements and found solace and friendship in one another's artistic tendencies.
Sharply produced and engineered by Justin Tocket and Ben Alleman at Dockside Studios in Maurice, Louisiana, Almost Good Enough is a slow burn from start to finish. It's bold, reverberant and lush. It's opulent in quality and bare in emotion, lamenting a relationship that falls just short of the upper echelons you'd always hoped it would reach. Sung in cascading tiers of rising harmonies, light overdrives, and thudding drums, the track is a testament to the power of a relatable motif sung through a uniquely poignant lens – a bastion of raw emotional power.