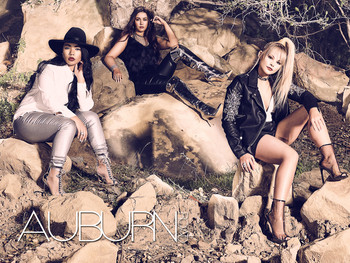 Hello Wednesday August 29, 2018, we are here and it feels so good. Today we have the amazing country-pop trio Auburn Road. Anyone who denies that country-pop is producing hits after hits these days are living under a rock. Auburn Road is Alicia Paulson, Paxton Martin and Kristen Brown. These three lifelong friends released their debut Fancy their senior year of high school and have been playing shows and writing and recording for their upcoming EP series Mustang Vol. 1, due out late later this year and Mustang Vol. 2, to be released in 2019. We are excited to showcase their new single, 'Outlaw' here as well, so lets do this!
@skopemag: Where are we talking to you from today?
We are currently in the car on our way to LA to rehearse with our band for some upcoming shows.
@skopemag: Tell us about your current single "Outlaw" & upcoming EP's Mustang Vol. 1 & Vol. 2.
Both Mustang Vol. 1 & Vol. 2 tell the story of our lives since the release of our first EP Fancy. We were 15 years old when we wrote that album and now we're 18 & 19 and have lived through the growing pains that come with growing up. We've fallen in love, we had out hearts broken, we've made mistakes, and we've learned from them. We took all of that and put it into our writing to make these EPs as honest and true to who we are and what not just us, but what any teenage girl goes through.
Our current single "Outlaw" is one that we know any girl can relate to. The song is about falling for the "bad boy" even though you know you shouldn't. Now we've all been there so one day we sat down and decided to write about it. The responses we've gotten on the song have been incredibly heartwarming and we are so thankful to everyone who has listened and/or bought the song on iTunes, Google Play, Amazon, Spotify, and YouTube. It's so exciting having some of our new music out there! We also want to say a big thank you to the guys that inspired the song. They don't know it's about them but they gave us the inspiration to write one of our favorite songs on our new EP.
Auburn Road: @skopemag: When you began your journey in music were your family/friends supportive?
We are beyond blessed with the best support system from our family and friends. They've cheered for us on the good days and dusted us off on the bad, and have been there for every moment in between. They have encouraged us every single day to follow our dreams and we honestly couldn't have done any of this without them.
Auburn Road: @skopemag: What other bands/artists do you respect & inspire you?
Some of our biggest inspirations are Maren Morris, Sheryl Crow, and Rascal Flatts just to name a few. All of these artists have a vulnerability about them in their music that is so beautiful and so real that we would love to accomplish in our own music. They are FANTASTIC songwriters and whenever we're getting ready to write new music, we listen to their albums on repeat to get in the right headspace. They've all had such amazing, long lasting careers and we pray to be able to follow in those same footsteps.
Auburn Road: @skopemag: How do you test whether a new song is a keeper or not?
If we can't get it out of our heads, it's a potential keeper. We say potential because we never marry a song right away. We've rewritten songs up to 5 times and then rewritten it again while recording it. We always want to make sure our songs are as good as they can be so we play them for our friends and family and members of our team to get their opinions on the songs. If it resonates with them then we go back and we tighten up lyrics and melody then record it. It's never a deal breaker on if it's going to make the album or not until all the songs are written either so it's even a surprise to us!
Auburn Road: @skopemag: In what kind of environment & mood do you feel most creative towards your music?
It honestly depends on the song. Some songs call for bright lights and high energy and some require lights completely off, windows closed, and candles lit all around the room. Each song tells a different story and requires a different approach when it comes to recording. We are blessed with a great studio that allows us to do whatever we want to the room to give our best performance on the mic.
Auburn Road: @skopemag: When are you most inspired to create music?
Inspiration can come from anywhere you just have to listening. It could be a movie, book, or even something that your best friend said to you in passing about her life. The really special moments though are when you can take those small things that you've heard and seen throughout your day and turn them into music. There really isn't an exact time that we're most inspired to create music though, we really just have to listen to what our hearts are telling us. When you come across a story that hits you in a different way, you'll know that that's the one you need to tell.
@skopemag: What's the best place or people to find your music, digitally, streams etc.
You can find us on Facebook, Instagram, Twitter, YouTube, and Spotify @ AuburnRoadMusic . There you can keep up to date about our upcoming shows and the release of our new EP Mustang which will be very soon! Also we would love it if you would check out our new single "Outlaw" on iTunes, Google Play, Amazon, Spotify, and YouTube.
Thanks for spending some time with us.