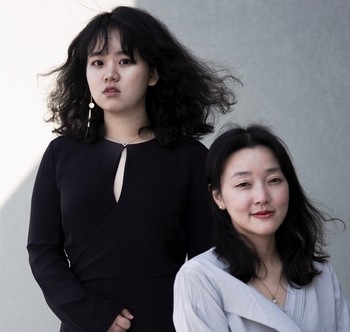 It has become common place that more and more Chinese performers of all types are painting the music scene red. Acts like Princess Long Long, Feifei Yang, Camellia Cheung and so on have made their mark nationally. Among these bright stars is newcomer Ms. Lou who has grown to be a pure talent in her own right. Ms. Lou who was educated in China decided to further her musical studies in New York and has made amazing strides.
She enrolled into the Manhattan School of Music and she was fortunate enough to study under the renowned composer / educator Dr. Marjorie Merryman. This was after she graduated from the Shanghai Conservatory of Music in 2016. There she studied music engineering. Ms. Lou became inspired to follow the music road while she was being taught by Professor Zheng who left her with this quote "to feel what the composers felt." These words are what has been the catalyst for her determination to be the best she can.
"I think every international student first big problem is the language. I was never good at English, so at first, I was very nervous about going to the class. But I think I was very lucky because the language we "speak" its music so music is the international language for everybody. I feel that the solid foundation I have learned in China has helped me a lot. Because many things in music are interoperable, as long as you learn the expression of English, all difficulties will be solved."
Prior to departing to the States, Ms. Lou accomplished some amazing things in China. In 2009 she won the Silver Medal for the American Golden Key International Composer Contest for her work "A Song of Silence" and the prominent music magazine Music Creation published her vocal work "Moon". She was on her way to bigger things. One of the more important things she learned in China is how to compose and produce a song from the start to finish.  It was while she was working with a TV program called "Sing My Song" which encouraged younger artists to develop original music. This was when she learned about editing, remixing and re-arranging music. What's more above all, she learned the importance of music's audibility, from that on, she starts to pay more attention on combine the modern technique and clear music theme in her composition works.
While she was in New York she began to collaborate with a Manhattan group where they composed the project "The Color" which featured the instruments the flute, viola, and piano. Following that she worked with Finnish accordion player Matti Pulkki, on the piece "On the Reef by the Sea" which was an accordion solo. Many were taking notice of this talented young lady. At the Riverside Church her second orchestra piece, "Chapter II" was premiered there.
Ms. Lou has come a long way in the short time she has been in America. This year she was featured at a woodwind quintet concert in Brooklyn and her biggest stage is right around the corner. On October 1st at Carnegie Hall's Weill Recital Hall she will perform a series of small chamber music along with Chinese female composer Yuexiang Xu. It is great opportunity for Ms. Lou to expose her talents to the world.
"Although my music has already been performed before in many different venues, this is the first time in such a famous venue which is open to the general public. Also, this would be the very first time for two Chinese female composers to share one stage and present their compositions at the Carnegie Hall, so I'm very excited, and I can't wait to share my music with everyone."
It is also important to note that Ms. Lou is not just a lover of classical music but other genres. She actually grew up enjoying acts like Gun's n Roses, X-Japan and others. These acts are one of the reasons she studying music engineering as she wanted to get in touch with pop music. What Ms. Lou is looking to work on the near future is recording her music and to release an album. Ms. Lou is gearing up for one of the main stages of her life, performing at Carnegie Hall.
https://www.carnegiehall.org/Events/Season-Highlights
by Nick Christophers