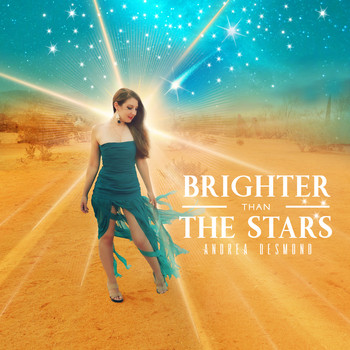 Andrea Desmond delves into a beautiful pop perfection with the gorgeous "Brighter Than The Stars". Multifaceted and multilayered, the songs swirl about with such colorful flourishes. Heavily grounded in pop, the pieces radiate a sense of optimism. The arrangements feel fantastic, infused with a tremendous amount of energy. Rather beautiful, Andrea Desmond proves to be a deft storyteller. Exploring the importance of moving forward, of caring for others, and the determination needed in life to accomplish great things, everything works, and it works well.
Opening everything up and setting the tone for what follows "The Strongest" has a sense of grandeur. So vibrant the song possesses a cinematic flourish with everything sprawling out into the infinite. Things slow down a little bit on "Keep On Going", where electronic elements give the song an almost EDM spirit. Everything feels pitch perfect, from the glorious distortion to the tender melodies. Employing a sense of geometry within the track it serves as the highlight of the entire collection, with tactile elements flowing into the mix with such uncanny ease. "Won't Give Up" feels positively sun drenched, as the song's slinky groove goes for a party atmosphere, with little stabs further adding the song's intensity. Neatly bringing the whole of the collection to a fantastic conclusion is the reflective meditation of "Inner Fire", which has a sparkling quality to it.
https://www.andreadesmond.com/store-btts.html
Done with such care and consideration, Andrea Desmond crafts an emotionally moving, vibrant world with "Brighter Than The Stars".
By BeachSloth