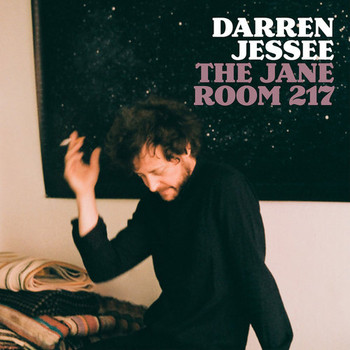 Darren Jessee is a former member of The Ben Folds Five and co-writer of their biggest hit "Brick", earned a Grammy reward for his contributions to The War on Drugs' A Deeper Understanding, and has collaborated with a number of other important modern artists. He's reached a new peak, however, with the release of his first solo album The Jane Room 217 and has realized his personal vision for music free from any need to tailor his talents to other performers and musicians. It's one of the most artful releases in recent memory and clearly Jessee has discovered his "voice" like never before. The first track "Anything You Need" embodies the sparse ideal that forms much of Jessee's aims with The Jane Room 217. It's anchored by little more than Jessee's voice and stripped back acoustic guitar until just past the one minute mark when echo laden keyboard work adds some nice touches. Some string accompaniment comes in later.
"True Blue" has a smidgen of sharper pacing, but still embraces the sonic aesthetic we hear with the first release and Jessee's emotive voice is nicely accompanied by slightly melancholy violin playing. There's not just melancholy, however, but deep affection shining through during the song. Violin returns, unsurprisingly, for the fourth cut "Dying Violins" and it's a moody number, but never mires itself in despair. Instead, Jessee strikes a graceful flow for the song and its intimacy is never lost despite additional instruments making their presence felt in the mix. The folkie styled leans of "Ruins" and other songs like it are, once again, peppered with subtle secondary touches that further flesh out the potential of each composition. "Ruins", as its title implies, has a darker lyrical edge than some of the aforementioned material. Again, however, Jessee maintains just the right amount of restraint. It's one of the most satisfying performances on The Jane Room 217.
"Leaving Almost Ready" moves away from the quasi-folky vibe of the preceding tune and fits in more as a lightly stylized singer/songwriter mold with its evocative, yet muted vocals and the addition of violin once again. There's a light fatalism to some of this material, never over-empathized, and it helps give this track a haunted feel – like a memory, hazily recalled. A veneer of post production echo or light phasing is applied to Jessee's voice for the album's penultimate number "Plastic Bag" and the incorporation of piano for this cut brings an additional melodic element in play.  The closer "Go On Baby Break Down" is one of the true highlights of the album and a well chosen closer. There are a number of track slots with a traditional sense of importance on any release and the concluding number is one of them; "Go On Baby Break Down" has a suggestion of callousness in its title, but the song is anything but and has a level of intimacy that's aching throughout. It returns The Jane Room 217 to its more straight-forward material, ala Jessee's singing and acoustic guitar, yet doesn't feel out of place with the more varied numbers of some of the album's songs during the second half. Darren Jessee has landed with a major achievement and The Jane Room 217 stands as one of the year's best singer/songwriting releases.
INSTAGRAM: https://www.instagram.com/darrenjessee/
Lore Reynolds