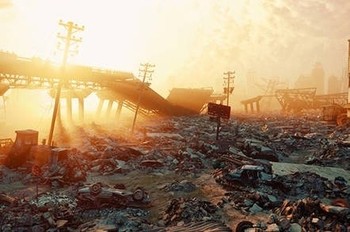 Cinema in the Weimar Republic anticipated the horrors of WWII, do modern popular songs presage an Apocalypse?
Between 1918 and 1933 during the Weimar Republic, the German Film industry was both shielded from the import of foreign movies and handicapped by the inability to export their home-grown movies. SO both in spite of and because of these circumstances, the film industry flourished and, under the style guide of the expressionist movement in art, created a flood of movies describing crime and horror in real and symbolic form. Notable examples include The Cabinet of Dr. Caligari (1920), Destiny (1921), The Golem: How He Came into the World (1920), From Morn to Midnight (1920), Nosferatu (1922), Warning Shadows (1923), The Hands of Orlac (1924), Waxworks (1924), Metropolis (1927). Each defining in its own way a terrifying environment using high contrast in black & white, stark perspectives, tilted camera angles, gothic make up and doom-laden pacing.
Given Germany was attempting to recover from the violence of World War I, when over 22 million people died in Europe, you might expect the media to try to develop an environment of (even false) optimism – quite the opposite happened. Film-makers unconsciously anticipated and fore-shawdowed the worse horrors to come to Europe in 1939 with the advent of World War II and the nightmare of concentration camp and ghetto killings.
If art reflects nature – does nature (or the environment) reflect what artists bring to life? This century has seen a deluge of flesh-eating zombie movies, post apocalyptic movies, dystopian movies, earthquake & meteor smashing movies, slasher films and generic spook horror jump-scare movies. And the movie going audience has shown an insatiable appetite to be scared. The "family" movies of the 50's and the 60's have all but vanished from the marquee. The hit songs of the 50's were inspired by the "Moon" and "June" lyricists of the Tin Pan Alley composers who churned out such classic, heartwarming sentimental songs as "Rudolph the Red Nose Reindeer" in 1950, "I Can Dream Can't I" 1950, "How High the Moon" 1951, "The Doggie in the Window" 1953, "Mr.Sandman" 1954 (no – not"Enter Sandman" by Metallica)"Wake up Little Susie" 1957, "At the Hop" 1958.
Now let's compare that smorgasbord of songs with lyrics from "hit" singles in the 21st Century.
Here are a few lines from Eminem's "Hellbound" which charted in Europe in 2002.
"(Bitch) I ain't a fuckin G. I'm a cannibal.
I ain't tryin' to shoot you,
I'm tryin' to chop you into pieces and eat you.
Wrap you in rope and plastic, stab you with broken glass."
Metallica's forty first single "My Apocalypse" charted around the world and made the US Billboards Hot 100 to 67 in 2008 contains these lyrics:
"I Fear thy name: Annihilation
Desolate inhale the fire
So we cross that line
Into the grips
Total eclipse
Suffer unto my apocalypse
My apocalypse…Go!
Crushing metal, ripping skin
Tossing body, mannequin
Spilling blood, bleeding gas
Mangle flesh, snapping spine
Dripping bloody valentine
Shatter face, spitting glass"
"Empire of the Clouds" by Iron Maiden: which charted in 2015:
"Reaper standing beside you
Wind inside cuts to the bone
Panicked to make a decision
Experienced men, asleep in their graves"
St Vincent's "The Apocalypse Song" from her debut album "Marry Me" states:
"so take to the streets with apocalypse refrain"
"idioteque" by radiohead released in 2000 and one their critics favorites from their catalog of "glitch pop" narrates:
"Ice age coming
Throw it in the fire
Throw it in the fire
Throw it on the
We're not scaremongering
This is really happening"
Granted that cable television, Xbox & PlayStation, modern day politics, youtube and Hollywood have blunted our sensibilities towards violence, misogyny and harsh language it does seem as though we are headed for a dystopian precipice of some sort. What do you think it is?
By Conrad W.