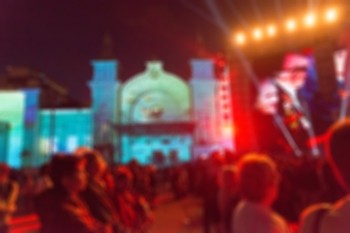 Putting an event outside has many advantages. Depending on the type of the event, free space, open air and sunlight can all be a plus. However, there are more than few difficulties of putting a whole event outside. There are some regulations and rules that must be followed in order to avoid inconveniences. Here are some general advice and things you should consider when organizing an outdoor event.
Determine the type of an event
First of all, let's figure out the real benefits of an outside space for your particular event. If you are organizing an event where internet connection is crucial, such as talk, presentation or a workshop, better opt for an in-between option, like a venue with a yard or a garden. This way you can have all the perks of outside space, with the safe option of close indoor amenities.
However, if you are organizing a fair, a music festival, an open cinema, the charity fundraiser, a team building, a party, carnival, a family hangout and a sports activity, outdoor is the preferable option. It gives you all the benefits of an open space and can accept more people than any indoor facility.
Getting the permission
If you never organized such an event before, then you probably don't know just all the types of permits you must obtain in order to follow the law. It is not that simple to just throw a party outside, even if it's on a private property. Depending on the number of people, there are two permits, for under 500 people and for over that number. If planning an event for under than 500 people, you must apply for a Temporary Event Notice. This is necessary if you will be selling or having alcoholic drinks or providing hot food after 11 pm.
If you plan on an event that will host more than 500 people, a premise license is required. And if you planning on having an alcohol, you must hire a Designated Premises Supervisor holding a Personal License. Also, if you plan on performing any kind of copyrighted material (music, films) you will need a Performing Right Society license or Phonographic Performance Limited license. For holding an event on a public land you will have to apply to the local council. In case of potential street or road closures caused by your event, you need to apply for a temporary traffic regulation order. Be sure to apply way ahead. Some of these licenses and permits need up to a year in advance submission in order to be issued.
Keeping it safe and restricted
For any kind of event, it is desired to have a professional security company to deal with any potential problems. On-door security will need to prevent any alcohol, drugs and weapon being brought inside.
All people conducting this must be trained and registered with the Security Industry Authority.
If you are organizing a music festival or a concert, you will need a crowd control barriers for several reasons. Temporary fences will prevent people from getting in without paying for the entrance and keeping the crowd under control as much as possible.
For sake of safety, you will need to draw a good health and safety plan. Think about emergency service access, as well as traffic organization and a parking for guests. Also, don't forget about access for disabled people and necessary on-site first aid for emergencies.
Noise restrictions
These restrictions are a never-ending field, aren't they? So, if you don't want people from nearby houses to be calling the police on you, you should really try to meet the noise restrictions. First of all, you should note the neighboring houses and buildings about the event in advance, so they are prepared in advance. But this doesn't mean you can escape the regulations. If there is not going to be too much noise coming from your event, you don't need to worry about this. However, if your event is on a larger scale, you will need to follow the Code of Practice on Environmental Noise Control ad Concerts,  which will set the acceptable levels for noise
Other than local residents and the police, you should consider noticing the Environmental Protection Team. As a non-professional, you might not take in consideration aspects of environment other than people. There is also a living world, as well as buildings and facilities that also can suffer from an inadequate noise. You might need an Acoustic Consultant to help you build the noise management plan.
Organizing an outdoor event of any size is not a piece of cake. If you are up to going through all of this trouble, you will need assistance, both professional and non-professional. If you are throwing a charity event, try finding volunteers to help you with on-site errands, help manage smaller issues and be in all the places you can't. If planning on a music or other kind of festival, good communication with your staff is crucial to avoid mistakes and handle the one that occurs. Anyhow, throwing such an event is not easy but it is not impossible either. The most important thing is to follow the rules and have everything be in order with the law, and handle the unexpected the best you can.