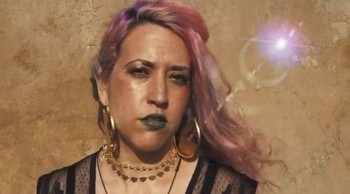 So here we are again, so good to be here. Even as this world gets crazier, we ignore it all with awesome music. Today we are so excited to link up with Niki Tonik. Niki has just released a new single "Ghost Stories" along with its light-hearted B-side, "Tadpole". The Pop-Soul/R&B double-single, produced by multi-instrumentalist and composer Noor Che'ree, marks Niki Tonik's striking debut, and is joined by the release of her beachy, mermaid-inspired music video for "Ghost Stories", also shot and directed by Che'ree. Join us today as we get into all of this with Niki Tonik!
@skopemag: Where are we talking from today and how has your summer been so far?
NT:  From my little shack in West Hollywood. I would like to say I've been relaxing by the pool or chilling by the beach this summer but it's been more of a grinding season for me ~ still been working hard to get this music off the ground, which will allow me to experience my version of summer during later seasons, lol. I did go see Thirty Seconds To Mars though at The Forum last month so that was pretty epic.
@skopemag: When did you feel like music was your passion and something that you could pursue as a career?
NT:  I knew I could sing for a while, since about high school I guess, which is when I had my first real performance, and then I started writing my first batch of songs around college. I also learned how to play guitar during that time, so that made songwriting easier because there became more options for what I could do and express.
In terms of pursuing music as a career, it's not really something that I thought about in any real rational or methodical way, it was just sort of obvious that that's what I would be doing with my life because I knew I could sing and write and had a very deep connection with music and doing anything else just seemed like a waste of time and talent.
@skopemag: Growing up who did you listen to and how did they influence your sound now?
NT:  Well I grew up in Israel for a good portion of my child/teenhood, ages 5-12, and pop music was and still is very popular there. All kinds of pop ~ American, European, and Israeli mainstream music were all things I listened to so I definitely got a nice variety of song styles, sounds and melodies stuck in my head early on. In high school, when we had already moved back to the states, I absorbed a lot of rock music and different styles of rock because my brother was a metalhead and so a lot of that rubbed off on me as well.
When I was in college and actually began writing songs I would say that single handedly it was Jason Mraz's music that inspired me the most and got me back to L.A, which is where I'm originally from. Nowadays, I still listen to a lot of different types of genres and really appreciate artists that keep things eclectic and honest, like Miguel. He's super versatile and authentic.
@skopemag: I like your name, Niki Tonik. Is that your real name and if not how did that come to be?
NT:  Thanks :-) My real name is Nicole Paige Hadany, I chose the name Niki Tonik because I have a background in Taoist Tonic Herbalism. I studied with a master herbalist and later started my own little side-business under the name Niki Tonik, writing wellness beverage menus for different vegan/vegetarian restaurants and catering private parties/events featuring my "Toniks." The word "tonic" means something that restores, invigorates and provides a sense of well-being, so it just made sense for me to brand all of my offerings under that one title.
@skopemag: Being it's 2018, do you spend more time creating music or doing promo via social media?
NT:   For the past several years I've spent a lot of time creating ~ writing and recording music but this year has been a little bit of both because I knew at some point I would need to start focusing on "launching" and putting my stuff out there. So this year we shot the video for "Ghost Stories", my very first music video and "part A" of the double-single coming out this summer, which I really appreciate you guys featuring on here.
@skopemag: Which is the most beneficial platform to be on in your opinion to attract and retain fans?
NT:  I don't think there is anything as impactful as the power of music. Of course there are many levels of celebrity, but I believe music has the greatest ability to influence and change culture and the world, which is why I do what I do and take it very seriously. It is both an honor and a privilege to do this type of work and so I always keep that in mind when writing music ~ asking myself "what is the type of song or lyric that the world needs to hear right now?"  Especially during these crazy times we're living in where our so-called "leaders" have become desensitized to people's and the world's real needs.
@skopemag: To make it in music these days you have to sacrifice. What aspect of your life have you sacrificed to chase your dream?
NT:  Definitely my time/energy and doing normal things that other people do. Like having a chill summer, taking vacations, going out on the weekends, shopping, and just generally taking time off from working. I know that once I actually make it in music THAT will be the biggest payoff, so I feel like the modest and focused lifestyle I'm practicing right now is actually an investment towards my future and the big picture. It's also been teaching me quite a bit discipline, patience and maintaining a strong work ethic.
@skopemag: You have a new single "Ghost Stories" along with its light-hearted B-side, "Tadpole." When & where did you write/record these singles and what do they mean to you?
NT:  I wrote "Ghost Stories" first about maybe 5 years ago in L.A on my guitar, and "Tadpole" came shortly after. Both songs were recorded by my talented producer Noor Che'ree. I often compare these songs as having a Yin/Yang relationship because "Ghost Stories" is like the song that acknowledges the collective pain and chaos that many are experiencing in our world right now. I felt it important to shed light on these seeming dark times by calling them out, because how can we move forward into a better space and times without first confronting and dealing with where we're at, ya know? "Tadpole" is that "better space" that I'm referring to in "Ghost Stories" ~ the place where action is taken, and where victimhood turns into empowerment. So they are complimentary opposites in a sense, which is why I wanted to release them together.
@skopemag: When you are not making music what else do you have going on in life?
NT:  I go to a really amazing spiritual center here in L.A called "Agape" and am a member of their incredible choir. The brilliant teachings and music that I continually experience there really help ground me spiritually and keep me focused, inspired and moving forward in the right direction. I feel very  grateful and blessed to have a place like that where I can go to on a regular basis to keep refueling and refilling my energetic cup, so to speak. Especially in this town!
@skopemag: Where do you want to see yourself in two years and how do you plan to get there?
NT:  In two years I see myself with a publishing and record deal, with a couple of albums under my belt, performing on-tour where the world knows my songs and name. I plan on getting there by putting one foot in front of the other, as I've been doing, and never losing sight of the vision for my life.
@skopemag: What is coming up for Niki Tonik & where you @ online?
NT:  What's coming up is many more near-future releases either in album, EP, or single format, whichever comes first. You can find me on my favorite of the social sites, Instagram @NikiTonik. Thanks!!