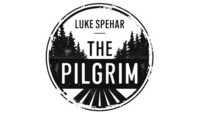 Every now and then, it is wonderful to just relax, sit back, get a book, and possibly listen to a new sound. Wherever a moment is possible to do it, a suggestion of a beautiful place is somewhere out in the Northwest…A suggestion could even be the beautiful scenery within Wyoming, Montana, or even in North Dakota, but some kind of way, sitting back to appreciate something magical, breathtaking, and reward yourself by choosing the new album from Luke Spehar called, "The Pilgrim."
Luke Spehar, a native of Minnesota, has a long history of singing and songwriting. He definitely didn't spare any of his experience or raw talent on this amazing masterpiece, 'The Pilgrim,' as it stills stories, love, history, and pride from a person's heart. All across the album, art-filled, heartfelt notes are played and not just randomly BUT carefully. When an artist takes as much pride in their work as Luke has done, it can't help BUT be GOOD…With the help of Grammy Award-winning Ben Harper producing this album, Luke Spehar has granted everyone just a glimpse of his life and what will hold true as one of the most attractive albums to be released this year! In all, 8 completely novels are all embedded within 'The Pilgrim' that all speak a different language, yet add to the musical journey of Luke Spehar.
At first listen, Luke Spehar has a very Country, Americana, Folk, and Pop sound. His production has a great home within the sounds of Ray LaMontagne, Bon Ivor, Ben Howard, Luke Bryant, America, and Darius Rucker. Luke Spehar has a very warm voice that actually makes you feel like sitting down and listening! Listening to some of his music actually puts you in a musical trance which is very good in today's standards. A very old soul is trapped in Like Spehar's body just because his wisdom comes out in the way he tells stories or writes lyrics. Very commendable!
'The Pilgrim' starts off in acoustic magic with 'The Farmer and America and Me.' A beautiful description of the lifestyle of a farmer…Words can't describe the storytelling on this particular song. It brings us to a time of when technology didn't matter but more about the work that people used to do by hand. An amazing journey is told in 'The Farmer.' Ear candy to start off the album, but moving into 'America and Me,' you hear the more progressive folk come alive with the smooth spoon player in the beginning first 8 bars! Who is that musician? It takes great skill to play spoon, but 'America and Me' is the summertime favorite which means for everyone to hop in a convertible, filled with assorted stuff for the beach! 'America and Me' is a truly patriotic song that assists us all on appreciating entire beautiful America! An amazing description of all the wonderful details of America from coast-to-coast, yet showcasing the pride that many have felt in the freedom that is involved within the United States.
Moving right along, the album swings to 'Love Songs and Lullabies, Time With You, and Which Road.' As a mom, I wish 'Love Songs and Lullabies' was written before 2006 when I gave birth to my son because I would have been playing it on repeat to watch him go sound to sleep. This song is a personal favorite! Carefully crafted yet the words are so meaningful and the melody is so blissful. 'Time With You' is a love song that talks about the struggles of a person that might have checked out of a relationship and just happened to truly look at their mate almost as if for the first time. Elements of Paris come out with the beautiful accordion but more importantly, the things that need to be said in relationships are said in this song! Wonderful song! 'Which Road' commands the space of the mind…The emotions that we all go thru when choosing which road to take in life…Luke Spehar truly makes your heart stop and beat again in this song as he spends time just focusing on the memories of before and the moments that we all fear when having to make decisions. This song has been listened to 3 times just in order to speak the message: Lingering and staying sometimes might just be the best place to be.
The album closes with the album title, 'The Pilgrim and Joshua.' 'The Pilgrim' starts with Luke singing a few moments acapella. Taking a journey, he is walking and showcasing true acoustic mystery as he effortlessly showcases that he only needs a little bit to make it to where he is trying to go. This song just speaks about a person who is happy in life, in their own way, and just making sense of the world that they see. Such a powerful journey as myth logically speaking, everyone is on journeys daily. 'Joshua,' is a song about power and hope. A song about being strong and courageous which is something that needs to be heard in today's world. This song almost has a positive Christian message and everyone needs to hear that powerful voice to lead them to the destination in which they need to make it to or even where they need to be in life!
What a powerful and breathtaking album? Luke Spehar has taken a moment to create music that is patriotic, warming, uplifting, and perfect for a moment when love is needed to be heard…Being that this album is a must listen to from start to finish, it is even more important to try and catch Luke Spehar whenever possible as he is a very talented musician, singer, and songwriter. This album is a MUST-HAVE and comes highly rated!
Rating 10/10
K. Tibbs