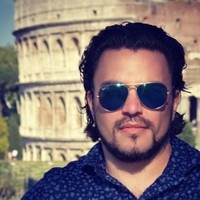 Esteban Alvarez continues to shine the brightest light he can muster on Latin crossover pop with his latest single, "Has Amado Una Mujer de Veras" ("Have You Ever Really Loved a Woman," a cover of the Bryan Adams song from the motion picture Don Juan DeMarco). In what is unquestionably one of the most excitingly colorful pop singles of 2018, Alvarez does nothing short of highlight the brilliant highs and stunning lows of his musical spectrum in the track, and invites listeners of all tastes and backgrounds to give Latin music a close listen as pop music evolves into the form that it will ultimately take as its official brand come the 2020s. Even if you're unfamiliar with his sound, you're almost certain to fall in love with his excellent style of play after only a single listen.
"Has Amado Una Mujer de Veras" is a diversely magnified arrangement of classic rock as perceived through a distinctly Latin lens and is presented to us as a song we know and love reimagined in a completely new and inventive light. Esteban Alvarez is building his reputation around his signature dedication to perfection, and this song lives true to his high standards in every aspect of its production. I like that he has maintained a steady stream of thoroughly imaginative releases without reusing the same formula over and over. He's much too skilled for that; his work requires his complete focus, and there's no room for analyzing past works. Alvarez is the kind of musician who is constantly looking ahead.
After listening to this track, and having heard a chunk of his discography prior to reviewing this latest release, I came to a firm conclusion. Esteban Alvarez is, in essence, capable of almost anything at this point in his career. If he wants to take his sound completely mainstream, there's really nothing to stop him. If he wants to experiment more with regional flare and melding different styles together, that's on the table too. But what intrigues me the most is the path that he appears to have chosen; one that adheres quite strictly to the framework set forth on his earliest releases. Alvarez doesn't ever repeat himself, but he absolutely has a stringent set of values that he refuses to turn his back on, and his music is benefiting from that adherence.
Inventiveness is the key to making any performance of any material a success. It doesn't matter what the genre is or who the composer is behind the song being sung. If you don't have an original concept to present to the world, I don't really care how catchy your music is; you've got nothing. Esteban Alvarez manages to make a Bryan Adams cover incredibly relevant, modern and fresh beyond anything that I could have pictured based on the description alone. If you're curious about what artists to watch in terms of predicting the future hierarchy of pop music itself, I would have to recommend Esteban Alvarez as a good place to start, and "Has Amado Una Mujer de Veras" as the perfect jumping off point.
Gwen Waggoner