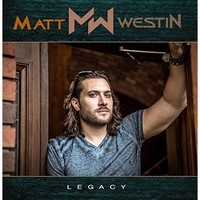 Born of blue collar roots in the Steel City and raised with a love for music that drives him to this day, Matt Westin unleashes pure country gold in his debut album Legacy, out everywhere great music is sold this summer. Legacy is a sprawling, ambitiously designed record for an artist making his foray into the industry, and I must say that for a rookie offering, you couldn't really ask for much more. I had the chance to sit down and preview all ten of the album's stellar tracks prior to its official release date and was more than impressed with what I found.
Every song on Legacy is a little different than the one that immediately follows it, and I must say that while the diversity is not what most people come to expect in country record, it's quite refreshing (especially for casual fans like me). There's plenty of classic twang, but it's affected by a modern spin. There are a handful of crossover rock n' roll moments as well, but none of them forced on us like a cheap commercial appeal to our taste. Nothing in the whole of Legacy itself feels forced, and that's a big deal considering how artificial most of the output in contemporary country music has been lately.
Gradually the energy builds in Legacy, starting out bold with "You Leave Me No Choice," reaching somewhat of a climax in the gentle "Right Amount of Wrong," and trimming all the fat and getting back to basics in the smoking "Southerly." The progression is smoothly primed by an excellent production value that is consistent in every song, and while the content never becomes redundant or repetitive, there's a cohesiveness that makes everything gel together as a single piece of art. Hardcore country fans will be excited at how intrepid the songwriting is, while more curious, unfamiliar listeners won't have any difficulty relating to the accessible but thoroughly countrified themes.
There are a lot of options for artists these days. With so many opportunities and tools at the disposal of independent performers never available before 2018, artists like Matt Westin are able to convey their sound and their story with far less industrial difficulty than one may have encountered ten or twenty years ago. With that said, Westin still manages to rise above all of his closest rivals and stand out as a true steward of his medium, refusing to take shortcuts or abandon his artistic ethics in favor of making a quick buck on a fleeting trend.
Whether you've been a country music addict since the day you were born or are just finding some love for the official music of the American heartland, there's something for everyone to fall in love with in Legacy. And with what is essentially a lull settling over the country scene in general, now may be the perfect moment for Matt Westin to make a play for the top of the heap. Not only does he have the chops to make it with this style of music, he has the opportunity to change and influence it for an entire generation to come.
AMAZON: https://www.amazon.com/Legacy-Matt-Westin/dp/B078X4M1BH
Thomas Patton, III