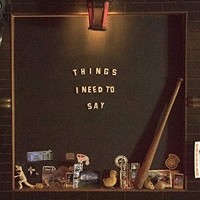 Jeremy Parsons has steadily built a reputation over the last decade as one of Texas' finest musical exports with a blend of heart-felt artistry and good natured humor in Parsons' songwriting. Though he brings every bit of the same commitment level to the material on his most recent album release Things I Need to Say, Parsons didn't fall under music's sway and begin writing his own songs until his teens, unlike the stories of virtual prodigies who are playing an instrument nearly from the cradle. He's made up for lost time in spectacular fashion, however, and his self-taught skills translate into a style all his own rather than a canned presentation reminiscent of much on the modern country/Americana scene. The San Antonio native's latest album Things I Need To Say features a baker's dozen worth of songs sure to add to Parson's growing renown.
https://jeremyparsons.bandcamp.com/album/things-i-need-to-say
"Makin' It Up As I Go" has a very approachable nature and sound, but there's a light undercurrent of melancholy you can hear hinted at beneath the surface. Much of that mood comes from the fiddle weaving lyrical lines along the edges of the song and the playing acts as an effective second "voice" in the song complementing Parsons' own. Piano, fiddle, organ, steel guitar, and slide all make appearances on Things I Need to Say and a great example of how these additional parts enhance the overall whole comes with the second song "Life". Parsons' vocal instrument is, naturally, a key factor in the song's success and he does an especially stunning job of bringing real pathos to the song's lyrics.
The presence of aforementioned organ colors in "Hope" quite nicely, but never obtrusively, and the six string contributions to the song put a signature on the song unlike anything else on the collection. It has more of an emphasis on a primary melody than what we hear with some of the other songs, thanks to the prominence of the electric playing in the track, and ranks among the best songs on Things I Need to Say. It further underlines the sentiments behind the title – Parsons definitely comes across as an artist with something important and deeply personal he wants to share with his audience. One of the album's gentler numbers comes with "Circumstance", but his penchant for big choruses remains intact and the song's depth of emotion and thoughtfulness exceeds many of the album's other exceptional tracks.
"Burn This House Down" is one of the most uniquely his own numbers on Things I Need to Say thanks to its brief but memorable introduction along with the impactful way he reframes familiar subject matter for modern listeners. It's a song that's earned him an award nomination for Monkey Bread Tree Film Festival for its accompanying video and has already experienced some chart success. "After All These Years" surpasses the elegant excellence of Parsons' earlier "Circumstance" with a lush, considered musical piece that's largely acoustic and boasts some of the best lyric writing on the album. Parsons makes it mean even more with an emphatic singing performance. He brings Things I Need to Say to a close with one of its undisputable peaks – "Why Is the Bluebird Blue?" has an unique sound while still adhering to hidebound fundamentals and the poetic qualities of the lyric far outstrip what's come before. Parsons turns in a virtuoso vocal performance to bring his second album to a close.
AMAZON: https://www.amazon.com/Things-I-Need-to-Say/dp/B06XTF5DXM
Jason Hillenburg