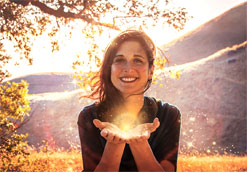 On any short list of the greatest living American songwriters, you'll find Paul Simon's name. For more than fifty years, Simon has been entertaining us with beautifully-written songs that speak gently but firmly to the human condition. Now, he's hanging it up – he'll play his last show ever in Queens in September. To celebrate Simon's remarkable career, Karen Atkins has recorded a radiant version of his 1977 Top Ten hit and enduring classic "Slip Slidin' Away." Her version is full of affection for Simon – and anybody who has ever watched their dreams recede can relate to what she has to say.
http://www.karenatkinsmusic.com/
Atkins' affection for Paul Simon is evident in every line of "Slip Slidin' Away" she sings. Even if she hadn't ever chosen to cover one of his songs, his influence on the music she makes would still be apparent. Like Simon, Karen Atkins is a singer/songwriter whose original music is animated by compassion: her narrators, like his, may be ordinary people with ordinary heartaches and joys, but their struggles and triumphs are dignified by the beauty of her melodies and the grace of her poetry.
Atkins, a natural health expert, is a healer as well as a musician, and one uncommonly attuned to the well-being of her listeners. All of the instruments she uses dispense with standard Western frequency in which A = 440, and are instead calibrated to A = 432. She's done this because it's been proven that this unique stress-relieving frequency is conducive to healing and internal harmony. Can a few frequencies really make a difference? Those who've been to her concerts testify, enthusiastically, that they do.