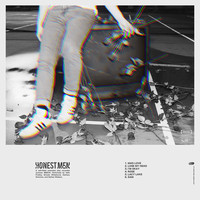 For generations, artists have been trying to generate that incendiary beat that makes us get out of our chairs and shake our bodies, forgetting all about any cares or worries we've got in the world. Elvis Presley and Michael Jackson defined movements with their rhythms, others like the Bee Gees and Funkadelic expanded these ideas with their own approach to studio manipulation. In Texas, where country music reigns supreme, Honest Men are making honest music that continues to expand pop music where the gods left off, using synthesized melody to create freewheeling good time jams, love songs and reflective ballads that challenge the critical standard.
I like to think of myself as a pretty open minded person, but I definitely wasn't expecting what I heard on Honest Men's new self-titled EP, their second major release in the last three years. What exactly was I expecting? Well when I see that there's a burgeoning indie rock band out of central Texas, and considering my longstanding issues with the commercialization of South by South West, I'm naturally anticipating a band that is going to essentially put a southern singer/songwriter in front of a Replacements cover band. And after listening to this extended play, I will be the first to admit how incredibly ignorant I was. I wasn't expecting a band that runs head first into abrasive beats, take big gambles on reflective lyrics in celebratory anthems, and take as much influence from soul music as they do hard rock. These guys don't just come to the party – they bring the party with them. All the more special, HonestMen doesn't sound as over processed as other grooving indie pop bands, in Texas or anywhere for that matter. We could just as easily be in the band's garage as we could at the 50 yard line of an enormous stadium show. That's so difficult to pull off, and yet in their discipline Honest Men make it look effortless.
Guitarist Brooks Whitehurst, drummer Zach Solomon, bass player Nate Wallace and lead singer Seth Findley put the passion on paper with this latest recording, and now that I'm familiar with their music and mission, I intend on staying tuned into everything this band does moving forward. In addition to Honest Men, the group's first release, the Okay Dreamer extended play, is also a fine record and a great measurement of how far these four have come in the last couple of years as professional musicians.
Their versatility is undeniable, and if the momentum keeps up we should be seeing an LP from Honest Men pretty soon. If they don't release one this year it will only be because of their hardcore touring ethic, which is a worthy excuse to stay out of the studio if it means we get to see their carnal dance rock on the stage for an extended period of time. Having already opened for some pretty big names in rock (Smash Mouth, Colony House and Elephante just to name a few), it sounds like this Texas juggernaut is finally ready for primetime.
INSTAGRAM: https://www.instagram.com/honestmenmusic
Kim Muncie