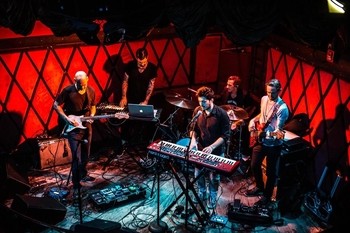 Quoted as "The Best New Electronic Dance Band of New York This Year" by MusicFestNews.com, Monotronic has made a huge splash already!  Formed in 2016 by guitarist/songwriter, Ramsey Elkholy, Monotonic has a MONSTROUS sound that has a zest for life thanks in big part to Ramsey's worldly travels & experiences.  The group consists of three other talented musicians: Adam Ahuja on keys/vocals, Alex Hayes on bass/vocals & Devin Collins on drums/live electronics.  With a debut album in the works, Monotronic is off to a very fast start and on the right track!
J Rae: What was the main inspiration behind forming Monotronic?
Monotronic: The inspiration for the formation of Monotronic mainly grew out of my lengthy travels throughout SE Asia as a backpacker (and later as an anthropologist) and as student of Indian Classical music. My goal was to try to create original music that doesn't fit neatly into any particular genre or category. In the years following, I started listening to electronic music, which sort of grew on me, but I often felt it was lacking in warmth and spontaneity. Monotronic music is kind of a response to this, wanting to add more of a human dimension to the electronic vibe. What's somewhat unique in our approach is that our live electronics are on an equal footing with all the other instruments, rather than being relegated to a fixed backing track. This enables us to go places that might otherwise not be possible, by keeping the live electronics fluid and dynamic. The live electronics are basically the "tronic" in Monotronic.
J Rae: Are you at liberty to give the Skope audience an official release date on your debut album?
Monotronic: The tracks are in the mixing process and then we'll move on to mastering, which should be over the summer. So, the current release date will be sometime in the fall, hopefully Sept./October.
J Rae: What can listeners expect to hear from Monotronic on the new recordings and what messages/feelings are you hoping to get across to listeners?
Monotronic: The songs on this upcoming debut album are somewhat of a departure from our live sound, which is much more improvisational. These songs are more structured and accessible to wider audiences, which will hopefully turn more people on to our music.
J Rae: This question strictly to Ramsey; how does being an anthropologist tie into your musical side?  I think having this academic background adds an interesting layer to you as an artist and do you feel this helps set you and Monotronic apart from the rest? 
Monotronic: Living in Sumatra among the Orang Rimba has definitely helped me embrace a more egalitarian ethos, and I have tried to apply this to our music. Our approach is very egalitarian, with all instruments playing an equal role in the Monotronic sound, the aim being to create a group sound that is greater than the sum of its individual parts. Living in a tropical forest and hearing all those sonic elements on a daily basis has also been really instrumental in terms of bridging the gap between western music and sound in the more abstract sense. In fact, much of what you hear in a tropical forest is polyphonic and polyrhythmic in nature, often in the form of animal calls (i.e.. "call and response"). So, there's already a natural musical dimension going on in nature, it's just a matter of attuning your ears to the various patterns that are going during different times of the day (evenings are very intense!).
J Rae: To Ramsey again: I noticed that you spent two years in the rainforests of Sumatra, Indonesia living among & studying a group of hunter-gatherers called the Orang Rimba.  You even wrote a book and filmed a video surrounding the Orang Rimba and your days/nights in the rainforests:
https://www.amazon.com/gp/aw/d/1785331590/ref=mp_s_a_1_1?ie=UTF8&qid=1524675672&sr=8-1&pi=AC_SX236_SY340_QL65&keywords=elkholy+being&dpPl=1&dpID=51UyqzNRdBL&ref=plSrch.
This is all quite intriguing and so I'm wondering what it was like living in such a primitive fashion and were you able to adjust well? 
Monotronic: That's a really complex question! The short answer is no, lol. When you arrive in such a foreign setting where you don't know the language or possess the skills for survival you are essentially like a child that needs to undergo a socialization process. Over the course of time I did learn the language and was able to keep up on wild boar hunts and longer journeys in the forest. But as much of the assimilation process involves a very high degree of bodily/sensory conditioning, to truly adapt to life in a tropical rainforest one needs to start at a very young age.
I was more like a fly on the wall, which is really the goal, to sit back and watch life happen and take notes while not interjecting or effecting outcomes.
J Rae: To Ramsey once more: What did you learn from the Orang Rimba and did they inspire you to jot down lyrics during your two years in the rainforests?  Were you able to get back into the swing of things in NYC after returning from Indonesia or did it take a while to adjust back to the hustle & bustle lifestyle? 
Monotronic: People often think about culture shock as something that happens when we travel to an exotic place. In my case the greatest culture shock I experienced was upon arriving back to NY, it took a while for me to be able to process seeing everybody walking around with such a sense of purpose. I basically needed to go through a re-assimilation process, which took some time.
J Rae: How did you guys all meet and how did the name Monotronic originate?
Monotronic: We all met in NYC by way of various jams at Euphoria Studios. I met Alex (bass) through a drummer I had played with; and Alex had known Devin and Adam for some years through other projects. So, things came together somewhat organically.
J Rae: Is Monotronic planning on touring OR will you be strictly playing in the New York area?
Monotronic: We will probably tour the East Coast following this upcoming album release.
J Rae: Could each member leave us with some personal words of wisdom that would help motivate people to do good and feel good in this world?
Monotronic: Alex: For every step you take in the pursuit of higher knowledge, take three steps towards the pursuit of the perfection of your own character.
Devin: When you take the time to do something for someone else, you will end up having a better day.Adam: Accept your flaws, watch the process, risk to beat fears, and don't forget that during darkness that goodness doesn't die, it's just hiding out somewhere.
Ramsey: Drink Pepsi
https://www.monotronicband.com/
By Jimmy Rae (jrae2@att.net)