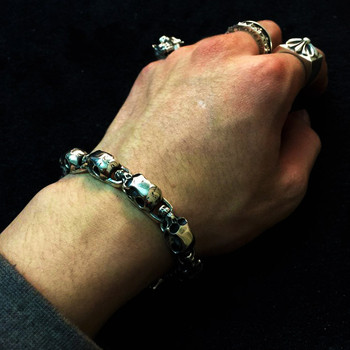 A man's bracelet is one of the most ancient ornaments. In ancient times, bracelets adorned hands of wise pharaohs, mighty military leaders, brave warriors, and even humble farmers. Even today men's bracelets remain a very popular accessory. Sometimes only one glance at a bracelet is enough to understand a lot about the preferences and lifestyle of its owner. That's why it comes as no surprise that among the myriads of bracelets carrying different styles we can unmistakably identify biker bracelets.
Why Biker Bracelets are Made of Metal and Leather
The biker culture boasts quite original attributes that are designed to symbolize freedom and independence. The right choice of accessories is vital for creating a complete image of a motorcycle buff. Bracelets are one of the most popular and sought-after items.
Since the whole appearance of a biker exudes masculinity and it lacks sentimentality, their jewelry reflects these qualities. Practicality and longevity is literally a bikers' motto when it comes to accessories. Traditionally, bracelets are made of leather and metal. The leather is a biker's second skin and it works well to convey a wild and untamed side of a biker.
Silver is a very sturdy and durable precious metal. It helps create jewelry masterpieces that are not scared of bad weather and are not so easy to tear. Therefore, silver is highly appreciated by tough men on motorcycles. Besides, a silver sheen resembles a cold luster of their steel horses.
Leather and metal are sufficiently reliable to protect biker's hands if he falls off a motorcycle. At the same time, they are not as expensive as precious metals and other exotic materials.
A Multitude of Styles and Designs
The width of a biker bracelet is usually quite large and there is a reason: a bracelet is not only an ornament but also it is a protection against injury. Bikers' hands usually suffer from fatigue and fights.
Ductile and durable silver allows creating biker jewelry pieces with myriads of styles and designs. Bikerringshop offers a wide range of bracelets carrying the most popular biker symbols – motorcycle chains, dragon's claws, crosses, skulls with bones, harnesses, etc. Such ornaments emphasize the rebellion nature and give away a fan of crazy speeds. Every piece of jewelry is crafted by hand. It enables creating items with an imprint of individuality. Also, hand-crafted ornaments boast unparalleled quality.
Silver skull bracelets are especially popular in the biker environment. In many ancient cultures, a skull symbolized the fortitude of the spirit and vital energy as well as the capacity for physical regeneration. That's why bikers don't consider a skull to be a symbol of destruction and death, as one may think. On the contrary, a skull is a sort of a totem or amulet. Bikers even have a belief that a man who bears a sign of death, which is a skull, will never die young.
Biker bracelets for men are badass accessories created for people who want to boldly showcase their identity. Today, such ornaments come handy not just for informal people, but also for those who strive to push the limits and abandon cookie-cutter solutions.