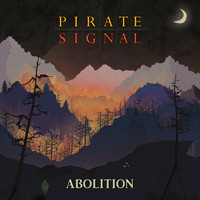 What are the wonderful perks of St. Louis, Missouri? Although it is perfectly known as the "Show Me" State, iconic places that cross the mind include one of the famous Ikettes' Restaurant , Sweetie Pie's brings thousands of supporters worldwide; along with Six Flags of St. Louis, but amazingly there are a few other hidden surprises in St. Louis that have sonically transformed the Show Me State to the Wonder State, because we wonder just where these guys have been hidden! Meet Pirate Signal and more importantly, have a listen to the amazing new single from their upcoming album, Abolition, "Mr. Grey."
Originally from St. Louis, the rock band Pirate Signal consists of Vocalist and Guitarist Joshua Halbower; Bassist and Vocalist Nick Stergos; Guitarist, Keyboardist, and Vocalist Brett Arnold; and Drummer Austin Ernst.' Mr. Grey' has a very solemn but collective sound which really feels like unreleased music from some of the most well-known Rock bands in the history of Rock. If comparing their musical ability and sound, names that flow through the mind include the Black Keys, The Beatles, the later years of the Beach Boys, along with Jimi Hendrix, but with a truly modern movement of the progressive rock bands like The Foo Fighters. Some of the most incredible music in history had some of the most powerful lyrics to ever have been written and Pirate Signal have a quality very much like Rock and Rolls, finest bands ever!
"Mr. Grey" is a heavy messaged based song… Direct lyrics that start 'Mr. Grey' include these: Hey Mr. Grey…Why you look that way…Hey Mr. Grey… Please Stay Awake… In life, most everyone living has been that Mr. Grey…The person that doesn't seem to know how to cope, yet are looking for purpose, a mission, or the moment that life will become satisfying. The production on this song is very intriguing as it has part of a British rock howling sounding guitar that awakens after the first verse! The vocals widen up and the more it goes to the ending, the vocals become more and more compelling begging in a sense for the right time to begin…The heavy roaring guitar alone wakes the entire mood of the song up but more impressively is the fact that Pirate Signal has illustrated 'Mr. Grey,' with some of the most eclectic artwork around!
The song 'Mr. Grey' is already a very melodious song but watching the powerful illustrations that took thousands of hours to perfect as the art design in the official video are almost heartbreaking as the work alone is over the top in more ways than one. You see the alone Mr. Grey and he indeed is very sad however he is searching just like the song compels the listeners to feel. GREAT CHOICE OF PRODUCTION on the video as it pushes the lyrics with an even more direct message.
With an entire group of musicians that most all sing and play, you can't go wrong with actually finding them in a live performance. The Pirate Signal is destined for great things as their alternative approach to rock music is helping to make their presence known. It is worth every penny to hear them perform live and I highly recommend giving them a listen as well as finding their Youtube link and watching their official video for 'Mr. Grey.'
http://www.piratesignalmusic.com/
10/10 Rating
K. Tibbs