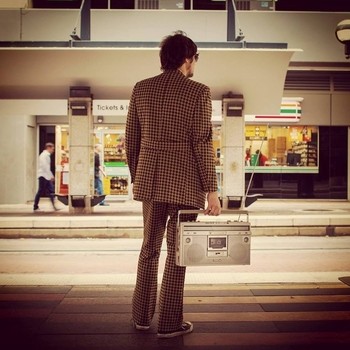 Respected Dallas, TX-based singer/songwriter/producer/musician-of-many-trades Salim Nourallah is set to release a sprawling double-album, Somewhere South of Sane, on September 28, 2018 on Palo Santo Records. In advance of the album release, Nourallah is releasing four pre-album "bundles" that will include tracks from the album as well as previously recorded but unreleased material or acoustic re-imaginings of tracks from past Nourallah albums. Each bundle, (EP) will be accompanied by new online video content.
Bundle three, entitled East, is set for release on July 27, 2018. Included on this release is one track that will also appear on Somewhere South of Sane – "A Thousand Ways to Miss You" – as well as two bonus tracks from the album sessions called "You're The Light" and "Easy to Hurt." The video accompanying this bundle is a clip for the song "A Thousand Ways to Miss You," and we're thrilled to have it premiere here today at Skope!
The video, shot by Salim in his house, offers a glimpse into the world he inhabits, a parade of images accompanying the slightly melancholy, graceful amble of the song. It also includes artwork painted by his mother, who passed away in May. "The still frames containing images of paintings were all my mother's work," Nourallah says. Footage of his mother with Salim's kids also provides a bittersweet ending to the clip.