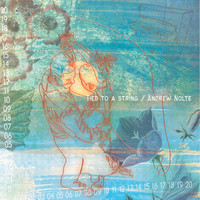 Tied To A String – by Andy Notle is the debut solo album from the Austin, TX based rock artist. The album is also classified to some as progressive rock, but there really is not much rock music of any heavy nature on it to speak of. However, progressive rock can be sliced hundreds of ways, as it comes with at least that many sub-categories within the multi broad- based genre. But not to take Nolte or the music on this album as a non-rock artist and effort, it just describes the fact that if you aren't up on the vast amount of ways to define progressive rock, you might find the album deceiving. It's best found in the concept rather than its energy.
A better way to describe it is singer/songwriter music, or even more defined to folk stylings of the current day. Nolte seems to be influenced by everyone from Bob Dylan to David Bowie, and one other such category is avant/prog which the album kicks off in the style of, along with jazz undertones which include piano and saxophone. Both of which feature on the excellent opening track "Europa Tide."
BANDCAMP: https://andynolte.bandcamp.com/
The pace doesn't increase on "Kiss Me" but it does further compel you into Nolte's voice, which is featured more prominently on this piano ballad which also comes with some even more mesmerizing horn play at the outset. But it's his voice and accompanied piano that essentially own this beautiful track. The lyrics here are also very clever and help make it so memorable and lovable, and the saxophone solo tops it all off just right. "L.A. Can Wait" follows at a bubbly pace with one of the only spots where you'd call it any kind of rock music, with a foxtrot beat throughout it, which is the most energetic moment on the disc.
"Tied To A String" is the epic title track, which contains a string/heavy arrangement on a huge ballad with an equal amount of delicateness applied to it. This is definitely-one of the highlights on the album, but it's often hard to find the hot spots because the album plays so consistently from track to track. "How Can I" is one of the more sublime tracks, and where Nolte's voice comes off the most commanding and interesting over yet another very jazzy tune. And "Take A Trip" is also in the same up-tempo vein with Nolte's playful vocals dominating the overall arrangement with great lyrics to match it.
"These Days" comes with a narrative approach about saving the moment, complete with a swirling flute solo before the track begins to pick up with more commanding piano and vocals on a track that clearly stands out as one of the album's best. And the album winds down with a couple of more endearing tracks in the shape of "Safe In My Dreams" which lends heavily to the album concept with another interesting piece of music and vocals before "Synecdoche" glues the final notes together with absolute perfection and grace.
James Olsen