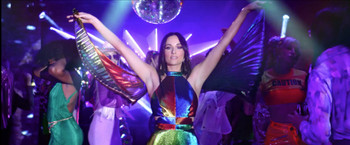 Kacey Musgraves releases the video for her crossover single "High Horse." Directed by Hannah Lux Davis (Ariana Grande, Nicki Minaj, Halsey), the video features Kacey escaping from her 9-to-5-inspired workplace, daydreaming about telling off her self-satisfied coworkers.
Featured on Kacey's recent #1 album Golden Hour, "High Horse" has received rave reviews, with Billboard proclaiming it "pure Studio 54-meets-barnyard bliss" on their list of the best songs of 2018 so far. The FADER declares the "sparkly disco-country banger is a song for all seasons, but deserves to be the Song of the Summer by sheer virtue of versatility," and Rolling Stone pronounces "'High Horse' bears the hallmarks of Musgraves' songwriting, with sharp wordplay, double entendres, and a perfectly executed put-down."
Kacey is currently on tour with Harry Styles, wrapping up this weekend with 2 nights at LA's The Forum. Kacey will kick off her headlining Oh, What A World: Tour this fall.