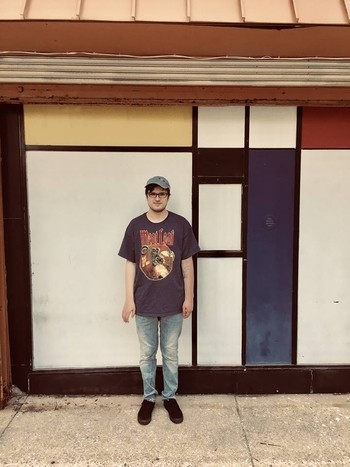 Happy Sunday morning as a new week is upon us all. We are starting off the week with Jim Shorts. Jim is an amazing & busy musician. His album 'Halo Repair' came out in April, 2018 and it is a classic. Lets get into it today with Jim Shorts!
@skopemag: What is the most current project you are working on?
Right now, I am writing the next Jim Shorts album. While I've been in more collaborative bands before, I really prefer writing on my own. So, I demo everything and then workshop it with everyone else. Mike, who plays in the band now, is a really great drummer. I look forward to working with him on drum parts.
Usually, records come together quickly. I've sort of been obsessed with spur of the moment, DIY recording in previous years. But, I've been taking my sweet time with this new one. I hope to record it in early 2019. Jarrod Gee (who produced our newest record Halo Repair) and I have been talking about where and how we want to record it. Should be a blast!
You can hear our new record Halo Repair at the following locations:
Bandcamp: https://jimshortsband.bandcamp.com/album/halo-repair
iTunes/Apple Music: https://itunes.apple.com/us/album/halo-repair/1360030674
@skopemag: What is it about music that you knew this was more important than all other music endeavors?
I've heard it said that film is the highest form of art, as it combines visual images, sound, story, etc. And I definitely agree! But, sometimes I think it's helpful to limit yourself. Good music is all about limitations – how can you get your point across in the simplest way possible.
My Dad had a copy of An Evening With John Denver on CD. When I was 13 or 14, I borrowed it from him. I think listening to that on a little boombox on the floor of my room was life changing for me. It's a gorgeous, radiant, transcendent performance. I knew then that I wanted to write songs. Or maybe it was listening to The White Album to fall asleep later on in high school. Songs like "Dear Prudence" or "I'm So Tired" made me feel like everything was all right – that I was going to be all right. I got into indie rock and weirder music in college, but it all really goes back to John Denver and The Beatles, probably.
Now, I think about music all the time. When I find a good song, I listen to it almost non-stop (today, it's Frank Black's "Do You Feel Bad About It?"). I don't really know when I became obsessed with music, but I know nothing will ever make me as happy as writing songs and playing them fast and loud.
When I moved out of my parents' house, I guess I stole that John Denver CD. Sorry Dad.
@skopemag: What other bands/artists inspire you?
I didn't grow up with a lot of rock and roll, so lately I've been really inspired by a lot of 60s and 70s stuff – Neil Young primarily. The current incarnation of Jim Shorts has been covering "Powderfinger" from Rust Never Sleeps. I've also been really into Lucinda Williams' Car Wheels On A Gravel Road. The drum sounds on that record are next level.
Because of my day job, I haven't been listening to as much music. But, I recently read two collections of Rupi Kaur poems that were heartbreakingly brilliant. My friend Evan, who plays in Jim Shorts, posted about Anthony Bourdain's death, and I've been finding a lot of joy and comfort in Parts Unknown. My wife and I even cooked one of his recipes the other day. Art comes in all shapes and sizes.
@skopemag: Would you say your family/friends support your music journey?
I think when any kid says they want to play rock and roll it's understandable for their parents to be a little afraid. But, my parents have been really supportive over the past few years. My mom let my old band tour in her mini-van (we affectionately named it the Mom-mobile). Every time we play Chattanooga, my Dad comes out to the show. I'm really lucky to have parents who support what I'm doing, as I know that's not the same for everyone.
Most of my friends nowadays are musicians too, so I definitely feel support from them. It's incredible to have met so many amazing people through playing shows over the past four or five years!
@skopemag: What is coming up for you, and where can we find you online?
We just released a Built to Spill cover on a compilation organized by our new friends in Gloom from Washington state. You can listen to it here: https://www.phluff.net/premieres/2018/6/26/built-to-be-re-done-a-built-to-spill-cover-compilation
We are playing Athens Popfest on August 11th. It's been a dream of mine to play Popfest for a long time, and it's crazy that we're playing the same year as Guided by Voices and a whole mess of other great bands! You can find out more about Popfest here: http://athenspopfest.com/
**photo credit attach Evan Braswell**