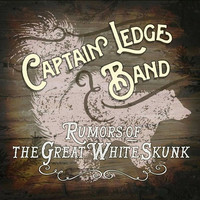 The Captain Ledge Band goes for a powerful slice of Americana on the tender tone of "Rumours of the Great White Skunk". Done with such ease, the whole of the album has a dreamy thoughtfulness to it. Highly creative, the Captain Ledge Band prove to be incredible storytellers, exploring the internal motivations of people and doing it with the greatest of ease. A hint of idealism comes into the mix, while the lyrics have a hopefulness to them that lets the whole album glisten with a compassion for all.
https://thecaptainledgeband.bandcamp.com/album/rumours-of-the-great-white-skunk
"I Wish" sets the tone for the album, with a stark sort of powerful beauty. Going for a more laid-back approach "Bucket Mouth" goes for a humorous take, showing off exactly how ridiculous people can be in their accusatory fashion. Jaunty to its very core the joyful "Skeleton Key" has a bit of fun with its elastic groove, thanks to the bass being just right. On "Waiting On Angels" they strip things down to the essentials with sunlit guitar as the bleak lyricism proves to be a great counterpoint. By far the highlight of the album comes with the simply lovely "I Love You". A swinging rhythm anchors the comforting "Simple Things". Simplicity is key on the album closer, the delicate "Mimosa Tree".
"Rumours of the Great White Skunk" creates an epic journey, one full of careful observations on the world at large along with the small interactions that make up a life.
By Beach Sloth