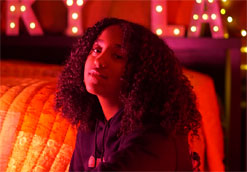 It is tremendously inspiring to watch a young artist find her voice. It's even better when that artist wastes no time in establishing a sonic and visual identity for her work: that's the surest sign that a pop star is going to be with us for a long time. For instance, it wasn't so long ago that Kyla Imani was best known for her YouTube videos – fantastic YouTube videos, mind you, like the stunning shot-by-shot remake of Beyonce's "7-11" clip that has now been viewed over a million times. Two and a half years from that viral success, the still-teenaged Imani has stepped clear from the shadows of her influences: "Sitting Up In My Room", her latest single, is a bold announcement of her arrival as a star in her own right.
http://www.facebook.com/KylaImaniMC
Co-written by Ester Dean – who has also penned hits for Drake, Selena Gomez, Katy Perry, and many others – "Sitting Up In My Room" is a sleek, catchy, mesmerizing slice of modern R&B. The song, which has already been featured on TheSource.com and Essentially Pop, features a guest verse by another young artist just coming into his own. Jay Critch has been called the new face of New York City hip-hop: a recent profile in The Fader called him the man who could bridge the generational divide between old-school rap and the feel-first vocalists currently dominating the genre. His single "Speak Up" roared out of Brooklyn in autumn 2017 and established him as a national artist. Critch's verse on "Sitting Up In My Room" puts all of his talents on display – it's direct and communicative, but it's also sonically provocative. His delivery is an exciting counterpoint to Imani's soulful, introspective singing: this is a conversation they're having, and we're invited to listen in.