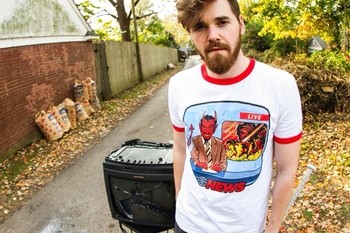 We are so excited to be here on a special USA July 4th Q&A but we invite every @skopemag reader to join us wherever you are in the world. Music is truly universal and sees no borders. So today we have Jeremy Parsons here and he is so real and so talented and grounded. We are so excited that he took the time to chat with us and let us know what he is up to. Join us as Jeremy speaks on his new album, his cats, how he got his start, and so much more. Now lets set off some fireworks!
@skopemag: Where are we talking from today?
We're talking from my home on the East Side of Nashville, TN. I'm sitting on a couch surrounded by two very awesome cats named io and Thunder.
@skopemag: What is the most current project that you are working on at the moment?
My most current project is the promotion of my album "Things I Need To Say." I just released my second single "Why Is The Bluebird Blue" and a music video along with it.
@skopemag: Got any music posted that we can stream and check out?
You can check out and stream the entire album on Spotify and any other streaming service out there. Just look up "Things I Need To Say" by Jeremy Parsons.
@skopemag: When you began your journey in music were your family/friends supportive?
As far as my family goes it was yes and no. My Dad and sister Katie have always been fans and continue to be great listeners and supporters of my endeavors. My friends have come through a lot over the years too. I'm very lucky to have a really great group of lifelong friends who support me.
@skopemag: What is it about music that you knew this was more important than all other artistic endeavors?
I've actually never really thought about this. I feel like it all just started and never stopped. It never seemed wrong so I never really had to stop and consider if it was right. Music is not only a part of my life it is my life at this point.
@skopemag: What do you think makes some artist/bands resonate with the masses when others do not?
One of my favorite thing about an artist is how well we can get to know them by listening to their music. I like when an artist is able to be honest and vulnerable. It creates a certain comfortability as a listener and you can kind of feel like you're just sitting there having a conversation with them.
@skopemag: When you are not doing music what else do you enjoy?
I enjoy getting out and going for walks. Music is my full-time job, passion, and hobby so when I'm not doing it I can't just sit there and do nothing. I always find going on a sort of wandering walking journey is the best. It helps me clear my mind and it is also a good excuse to get some exercise in.
@skopemag: How much time per week do you devote to music & social media marketing?
I try to spend every day doing this in some way, shape, or form. It is my entire life and if I'm not writing, recording or playing it's important to try and acclimate that towards creating more of a draw and/or retaining the attention of fans and trying to grow that outreach. It's super important for what we do and if I'm not posting you can bet I'm planning a post or coming up with an idea to initiate everyone.
@skopemag: Should I feel guilt as an industry insider for paying $10 a month for Amazon Music Unlimited and having access to all music as I please?
I don't think so. I'm not one to throw a fit about that. Music is made for people to listen to and how it gets there doesn't really matter to me as long as it's reaching you somehow. You can't really put a price on or around someone connecting with your music.
@skopemag: What kind of environment & mood do you feel most creative towards your music?
I feel my music is always driven and created by intense emotions. When I am very sad, angry, happy, or just being overly empathetic it is easy for me to sit down and get exactly to the point. It always feels so therapeutic and necessary. It's something that has always found me and if I didn't have this I don't know what I would do or where all these feelings would land.
@skopemag: What is coming up for you & where you @ online?
I've got a lot of live shows around Nashville going on as well as some stuff I'm working on outside of town. I'm in the process of promoting my current single and music video "Why Is The Bluebird Blue" but am always thinking about what the next single might be. I'm constantly writing and am starting to think about a next album and how that might need to sound and what it might need to say. I'm excited for all things to come! You can keep up with me online on my website http://jeremyparsonsmusic.com.